Global Uranium Centrifuges Manufacturer Places Major Order for Oerlikon Leybold Vacuum's Technology
Published on October 10, 2013 at 7:13 AM
http://www.azom.com/news.aspx?newsID=38569
Oerlikon Leybold Vacuum received a double-digit million Euro order for vacuum technology from a global manufacturer of uranium centrifuges for nuclear power facilities.
Oerlikon Leybold's vacuum solutions will play an essential role in a nuclear plant presently under construction in the United States.
Oerlikon Leybold Vacuum will deliver proven fore vacuum equipment for 12 different systems and will offer customized service to fit the customer's needs, including assembly, testing and documentation in accordance with requested standards. The RUVAC roots pumps have been modified to withstand prevailing conditions and comply with the high requirements of their application. "This order shows once again that we are technological leaders in the mastering of highly complex and demanding vacuum applications," says Dr. Martin Füllenbach, CEO von Oerlikon Leybold Vacuum.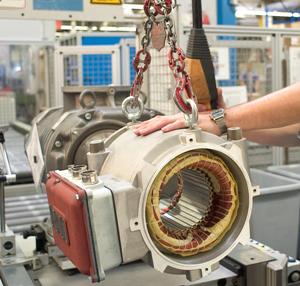 Uranium centrifuge technology is used not only in modern energy solutions and civil power generation, but for medical and industrial purposes as well. U-235 is the uranium isotope used in nuclear fission. Nuclear reactors require a 4-5 % U-235 content for safe and efficient operation, but natural uranium ore only has a 0.7 % U-235 content ratio. The uranium for use in reactors must therefore be mined, milled and converted to the appropriate gaseous chemical form, which allows those molecules with higher amounts of U-235 to be selected out. This process is known as uranium enrichment, and it requires the use of special centrifuges. The process involves forcing pressurized uranium hexafluoride gas through a series of porous membranes or diaphragms. As U-235 molecules are lighter than U-238 molecules (a similar isotope that exists alongside U-235), they move faster and have a slightly better chance of passing through the pores in the membrane.
The UF6 that diffuses through the membrane has higher levels of U-235, while the gas that did not pass through has depleted levels of U-235. This process is repeated over and over in a series of diffusion stages called a cascade. Each stage involves a compressor, a diffuser and a heat exchanger to remove the heat of compression. Finally, the enriched UF6 product is withdrawn from one end of the cascade and the depleted UF6 is removed at the other end. The gas must be processed through some 1,400 stages to obtain a product with a concentration of 3 % to 4 % U-235. The plants typically achieve only modest levels of isotope separation in each individual stage of enrichment; they compensate for this by having the capacity to handle large volumes of gas. The process requires a robust, stable vacuum.
"Our expertise does not end with vacuum components. An essential part of this contract is vacuum engineering for process development. Given our expertise and international reach, designing a system to the high American specifications is business as usual", says Segment CEO Füllenbach. "Our understanding of customer needs, quality standards and regulatory codes make Oerlikon Leybold Vacuum a trusted and reliable partner and the supplier of choice."
In light of the megatrends already discernible today, energy production and transport will remain highly significant, especially for innovations and technological developments relating to future energy solutions.
Researchers Find Solution for Century-Old Chemistry Problem
Published on September 12, 2013 at 6:45 AM
http://www.azom.com/news.aspx?newsID=38232
Chemists at The Scripps Research Institute (TSRI) have found a way to apply a "foundational reaction" of organic chemistry to a stubborn class of chemicals, in a transformation that has been thought impossible for a century.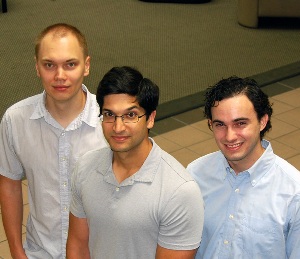 The classic SN2 reaction has enabled chemists to build and modify many pharmaceuticals as well as other useful organic molecules. While the reaction had been thought to exclude certain compounds, a paper in the September 12, 2013 issue of the journal Nature describes a new SN2-like reaction that overcomes this limitation.
"We've widened the range of molecules that are responsive to this foundational technique; for example, we can now chemically synthesize a family of promising antimalarial and anticancer compounds that were previously off limits," said TSRI Assistant Professor Ryan A. Shenvi, who was the senior author of the paper.
Flipping the Umbrella
The SN2 reaction can be used to detach part of a molecule called a functional group from a central carbon atom, while simultaneously, another functional group adds to the opposite side of the carbon atom. This structural flip can significantly change a compound's chemical properties.
"It's like turning an umbrella inside out," Shenvi said. "The SN2 predictably inverts what we call the stereochemistry of the carbon atom."
Traditionally, stereoinversion reactions, which were first described by Paul Walden in 1896, have not been applicable to compounds known as tertiary alcohols or their derivatives—a general problem identified by Christopher Ingold in the early 1900s. In these compounds, the carbon atom of interest is bonded to three other carbon atoms, which effectively shield it from the reaction.
To get around this longstanding limitation, Shenvi and his research associate Sergey V. Pronin developed a method that employs a special acid catalyst plus an unusual nitrogen-containing molecule, a derivative of cyanide. The acid helps detach a fluorous functional group from one side of the central carbon atom, and then the nitrogen forms a new bond on the other side, thus completing the stereoinversion.
"The basic idea is that you can take a tertiary alcohol with one stereochemical configuration and install nitrogen functionality, leaving it with the opposite stereochemical configuration," said Pronin.
Fewer Steps
To demonstrate the new technique, Pronin and graduate student Chris Reiher used it to build or modify a number of compounds in a relatively short sequence of reaction steps, starting with cheaply available tertiary alcohols. "In one example, we took a derivative of vitamin E, tocopherol, and in a few steps turned it into something we call an aza-tocopherol, in which the oxygen atom is replaced with nitrogen—a compound that otherwise would have been very difficult to access," Pronin said.
The chemists also showed how the new reaction can simplify the preparation of a set of compounds known as marine isocyanoterpenes, which are produced naturally by sea sponges and other oceanic animals. Some of these compounds have been found to have anticancer, antimalarial, antifungal and other potentially useful properties, but they have been very hard to prepare using synthetic chemistry. With the new technique, the researchers were able to prepare several scarce marine isocyanoterpenes starting from abundant and renewable terrestrial terpenes, and using far fewer steps than had ever been reported before.
On its own, the new method fills a significant gap in the toolkit of organic chemists. But Shenvi hopes soon to extend it further to enable SN2-like substitutions of tertiary alcohols with other reaction partners: "We think that this reaction will teach us how to achieve stereoinversions of tertiary carbons to form carbon-oxygen, carbon-sulfur and even carbon-carbon bonds," he said.
This year would have been Paul Walden's 150th birthday.
Funding for the research was provided in part by Eli Lilly and Boehringer Ingelheim.
About The Scripps Research Institute
The Scripps Research Institute (TSRI) is one of the world's largest independent, not-for-profit organizations focusing on research in the biomedical sciences. TSRI is internationally recognized for its contributions to science and health, including its role in laying the foundation for new treatments for cancer, rheumatoid arthritis, hemophilia, and other diseases. An institution that evolved from the Scripps Metabolic Clinic founded by philanthropist Ellen Browning Scripps in 1924, the institute now employs about 3,000 people on its campuses in La Jolla, CA, and Jupiter, FL, where its renowned scientists—including three Nobel laureates—work toward their next discoveries. The institute's graduate program, which awards PhD degrees in biology and chemistry, ranks among the top ten of its kind in the nation. For more information, see scripps.edu.
Do you have a review, update or anything you would like to add to this news story?
POWER AND INCINERATION INDUSTRY
http://www.anhlimited.co.uk/www.anhlimited.co.uk/info.php?p=4&pno=0
Power
Refractory technology for this industry has changed with the evolution of new demands for power and economic and environmental concerns. A wide variety of materials are available for use in industrial boilers, package boilers, cyclone boilers, waste-to-energy units, CFB''s, ash hoppers and
others.
Boiler Refractory Applications
Power Generation
Ash Hopper Refractories
I

ncineration
Boiler Refractory Applications
Boiler Refractory Application Guide
Furnace Walls

Inside Casing & Tangent Wall Outside Casing

Tangent Wall Inside Casing

Opening Patch and Access Doors
Burners

Tangential and Front Fired
Special Applications

Slagging Bottom Boiler

Cyclone Boiler Studded Tubes




Baffles and Boiler Seals

Floors (Industrial Boilers)

Stoker Pier (Industrial Boilers)

Hearth (Recovery Boilers)
BACK TO TOP
Power Generation

The correct selection of refractory for CFB''s can prolong service life and improve overall operational efficiency. ANH has been a preferred refractory supplier to the Power Industry for over 50 years.
H-W product families offer a complete package of solutions for all service conditions
:
EXCELERATE: abrasion resistant ramming / gunning material

GREENGUN: gunable plastic

KAST-O-LITE: insulating castables

NARCOGUN: silicon carbide gun mix

PLASTECH: abrasion resistant phos bonded

THERMAX: Thermal shock resistant vitreous silica castable

VERSAGUN: low cement gunmixes

VERSAFLOW: low cement castables
Fuel Feed Systems

Service Conditions:

Lining Solution:
Combustor

Service Conditions:




Lining Solution:



Crossover duct
Service Conditions:



Abrasion

Ash Penetration

Thermal Cycling

Lining Solution:



Cyclones
Service Conditions:



Abrasion

Fuel Reactions

High Temperature

Lining Solution:



Ash Return Systems
Service Conditions:



Abrasion

Thermal Cycling

Ash Penetration

Expansion Cracks (Volume Stability)

Lining Soulution:




Outlet Ducts / External Heat Exchangers Ash Coolers
Service conditions:



Lining Solution:



BACK TO TOP
Ash Hopper Refractories
Ash-Hopper Service

Ash hopper service includes a number of conditions, which can be detrimental to a refractory lining. Refractories used in this service must show good resistance to a variety of destructive conditions.




Airborne particulate generated during combustion can cause severely abrasive conditions.

Slag can fall into the hopper in large chunks called "clinker". The impact of this clinker upon the refractory can be quite severe.

In the case of wet-bottom ash hoppers, the splash generated by falling clinker can introduce severe thermal shock.

Products installed in ash hoppers can be cast, gunned or sprayed.
Tufshot LI
Service Classification - Less Severe
Installation Method - Gun
Impact Resistance - Good
Thermal Shock Resistance - Fair
Abrasion Resistance - Fair
Tufcast LI
Service Classification - Less severe
Installation Method - Cast
Impact Resistance - Good


Thermal Shock Resistance -

Fair
Abrasion Resistance - Fair
Lo-Abrade G
Service Classification - Severe
Installation Method - Gun


Impact Resistance -

Excellent
Thermal Shock Resistance - Good


Abrasion Resistance -

Good
Versaflow 45 Plus
Service Classification - Severe
Installation Method - Cast
Impact Resistance - Excellent
Thermal Shock Resistance - Fair


Abrasion Resistance -

Good
Versaflow Thermax Plus
Service Classification - Most Severe
Installation Method - Cast


Impact Resistance -

Excellent




Thermal Shock Resistance -

Excellent
Abrasion Resistance - Excellent
Versagun Thermax Adtech
Service Classification - Most Severe
Installation Method - Gun
Impact Resistance - Excellent


Thermal Shock Resistance -

Excellent
Abrasion Resistance - Good
Greentec 170 LG
Service Classification - Most Severe
Installation Method - L.C Gun
Impact Resistance - Excellent


Thermal Shock Resistance -

Good
Abrasion Resistance - Excellent
BACK TO TOP
Incineration
Incineration of corrosive waste has become an increasingly acceptable method of disposal for these materials. Commercially and privately operated incinerators will be a part of the foreseeable future. Conditions relative to refractory longevity vary throughout these units. Careful selection of refractory materials is required to achieve long running campaigns and maximise cost effectivness. Thermal profiles, waste streams, generated slag and operating practices are individual for each incinerator in operation. Therefore refractory practice is an individual matter.
Incinerators are used to destro
y -
Liquids / Sludge / Solids / Gases
Incinerator Conditions -
Temperature - 900 to 1450°C

Abrasion - solids, metals, gas streams

Chemical - sulphur, chlorine, organics

Slags - ashes, metals, phosphates, chemical

Gases - organics, chemicals

Mechanical - metal drums, slags
Areas of Incineration / Types of waste -
Medical - hospitals, pharmaceuticals

Industrial - tyres, inks, packaging

Cremation - local authorities, veterinary

Sewerage - water companies

Municipal - town refuse

Agriculture - animals, soils

Government - money, military, drugs, documents

Chemical - dangerous toxic wastes, petrochemicals

Power Gen - heat recovery systems

Marine - shipboard wastes
Types of Incinerators -
Municipal - moving/rotary grate, CHP

Fluid bed - circulating, bubbling

Rotary - chemicals, solids, liquids

Multi Hearth - sewerage

Modular - medical, solids

Cremators

Waste Boiler - paper, oils, sugar cane

Waste Gas - flare stacks

Thermal Oxidisers

Coal/Oil Gasifiers

Spent Caustic Incinerators
BACK TO TOP