Prince Nayef's death makes a big difference in the Middle East
The late Saudi prince was a polarising figure but he was involved in many regional initiatives, particularly on counter-terrorism
http://www.guardian.co.uk/commentisfree/2012/jun/19/prince-nayef-middle-east-saudi-prince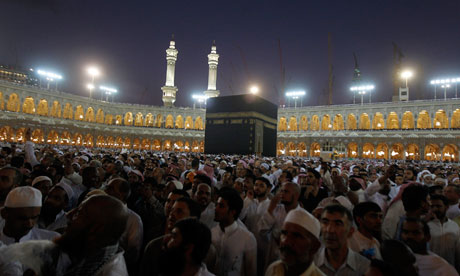 In many ways the repercussions following the death of Crown Prince Nayef, heir to the Saudi throne, are far greater than those that followed the death of his predecessor Prince Sultan nine months ago. Prince Nayef, after all, was heavily involved in various "files" (as foreign political responsibilities are referred to in Arabic) over the past few decades including Bahrain, Iraq and Yemen. Since his passing, various Saudi media outlets have
highlighted these issues
– including the London-based Asharq al-Awsat, a popular newspaper owned by Nayef's nephews.
Nayef was a polarising figure not least because of the different ways in which his policies affected the lives of those outside the kingdom's borders. For instance, while Kuwait and Bahrain both
declared a three-day period of mourning
following Nayef's demise, there was a different reaction in some sections of their community. Pro-government Bahrainis
criticised
reported
celebrations
by a "
minuscule minority
" in Shia villages on news of the prince's death, while prominent Kuwaiti members of parliament demanded
stringent action
against social media users who insulted the late prince.
Elsewhere in the Gulf, Nayef publicly objected to a proposed bridge between Qatar and the UAE in 2005, calling it "
unacceptable
" (on the grounds that it would pass over Saudi territorial waters) and adding to a
long history of disagreements
with the Emirates.
Nayef was also no friend to the Muslim Brotherhood, whose rise complicated relations with Egypt and whom he regarded
with great suspicion
. Nayef once
remarked
: "Without any hesitation I say it, that our problems, all of them, came from the direction of the Muslim Brotherhood" and
publicly received
the movement's Egyptian arch-enemy, former intelligence chief Omar Suleiman, only last November.
It is therefore ironic that Nayef met senior Muslim Brotherhood leaders only weeks before his death, when a delegation headed by the former Egyptian speaker of parliament visited Saudi Arabia
to apologise
for insults directed at the Saudi leadership by Egyptian protesters in front of the Saudi embassy in Cairo. The Muslim Brotherhood may find it easier to deal with the new Crown Prince Salman who, although he is also
said to be conservative
, does not have a similar security background as Nayef.
Saudi Arabia's relationship with Iraq was another "file" handled by Nayef following the fall of Saddam Hussein and the rise of militant attacks in both Iraq and Saudi. However, Nayef maintained that it was in fact Iraqis who were
infiltrating Saudi Arabia
and not the other way around. As part of a $12bn plan to secure Saudi borders, Nayef launched in 2006 a seven-year project to build a 560-mile security fence between Saudi and Iraq, which he described as the
main base for terrorism
in the region.
Towards the southern borders of Saudi Arabia, Nayef's forces embarked on one of their biggest operations to secure the Saudi-Yemeni borders. Nayef expanded the war against terrorism across the Yemeni border to target al-Qaida in the Arabian Peninsula. In 2009 the group attempted to assassinate Nayef's son Mohammed who serves as deputy interior minister and commander of counter-terrorism operations.
Perhaps the most important and obscure non-Arab file that Nayef was involved in was that of Pakistan. The Times
reported in February
that Saudi Arabia would consider buying nuclear weapons if Iran acquired any and that the most likely source for Saudi would be Pakistan – although both have denied such an agreement exists. The solid Saudi relationship with Pakistan is heavily dependent on close co-ordination between the interior and intelligence authorities of both states in which Nayef played a significant role.
Nayef's involvement in security matters also extended beyond the borders of Saudi Arabia in his capacity as the
honorary chairman
of the Tunisia-based
Council of Arab Interior Ministers
which under oversight
adopted
the Arab Pre-emptive Security Plan of 1985 and the Arab Convention on the Suppression of Terrorism in 1998. In fact, the Arab Interior Ministers Council is regarded as one of the only "effective" pan-Arab organisations due to the security-centric nature of Arab regimes.
Much like Suleiman, Nayef was able to play a much more significant role than most other interior ministers in the region. Nayef's decisions over several decades affected those in not only Saudi Arabia but also a region far wider and more complex. Despite the swift appointment of a new crown prince and interior minister, the regional implications of Nayef's demise will take a long time to be understood and to resolve.
• Follow Comment is free on Twitter
@commentisfree
Saudis plan Iraq security fence
By Heba Saleh
BBC News, Cairohttp

://news.bbc.co.uk/2/hi/middle_east/6149152.stm
Last Updated:

Tuesday, 14 November 2006, 22:48 GMT
Saudi Arabia will press ahead with the construction of a security fence to seal off the border with Iraq, the interior minister has said.
Prince Nayef bin Abdulaziz said it would prevent the entry of Islamic militants and illegal immigrants.
The 900-km (560 mile) fence is part of the larger electronic shield which the kingdom plans to build to secure its northern, western and southern borders.
The $12bn project will use devices such as remote sensors and thermal cameras.
| | |
| --- | --- |
| | A border fence separating us from Iraq has become essential to protect security...I expect work will begin on the border fence next year |
The Saudis want to control their vast desert borders and seal off Iraq, ensuring that the chaos there does not spill over into the kingdom.
The Saudi interior minister said the war in Iraq was affecting all its neighbours and that a border fence had become essential for the security of the kingdom.
Describing Iraq as the main base for terrorism in the region, Prince Nayef said construction of the fence would start next year and take up to six years.
As the world's largest oil producer and the country targeted by al-Qaeda, Saudi Arabia is acutely aware of the threat posed by the war in Iraq.
The Saudi authorities fear there could be dire consequences for the stability of the kingdom if Iraq disintegrates.
They see the security fence as a means of stopping al-Qaeda fighters as well as drug dealers, weapon smugglers and potentially large numbers of Iraqi refugees.
Afghanistan war logs: Task Force 373 – special forces hunting top Taliban
Previously hidden details of US-led unit sent to kill top insurgent targets are revealed for the first time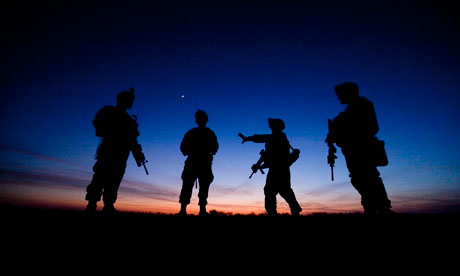 In many cases, the unit has set out to seize a target for internment, but in others it has simply killed them without attempting to capture. The logs reveal that TF 373 has also killed civilian men, women and children and even Afghan police officers who have strayed into its path.
The United Nations' special rapporteur for human rights, Professor Philip Alston, went to Afghanistan in May 2008 to investigate rumours of extrajudicial killings. He warned that international forces were neither transparent nor accountable and that Afghans who attempted to find out who had killed their loved ones "often come away empty-handed, frustrated and bitter".
Now, for the first time, the leaked war logs reveal details of deadly missions by TF 373 and other units hunting down Jpel targets that were previously hidden behind a screen of misinformation. They raise fundamental questions about the legality of the killings and of the long-term imprisonment without trial, and also pragmatically about the impact of a tactic which is inherently likely to kill, injure and alienate the innocent bystanders whose support the coalition craves.
The plan was to launch five rockets at targets in the village of Nangar Khel where TF 373 believed Libi was hiding and then to send in ground troops. The result was that they failed to find Libi but killed six Taliban fighters and then, when they approached the rubble of a madrasa, they found "initial assessment of 7 x NC KIA" which translates as seven non-combatants killed in action. All of them were children. One of them was still alive in the rubble: "The Med TM immediately cleared debris from the mouth and performed CPR." After 20 minutes, the child died.
The log refers to an unnamed "elder" who is said to have "stated that the children were held against their will" but, against that, there is no suggestion that there were any Taliban in the madrasa where the children died.
The rest of the press release was certainly misleading. It suggested that coalition forces had attacked the compound because of "nefarious activity" there, when the reality was that they had gone there to kill or capture Libi.
It made no mention at all of Libi, nor of the failure of the mission (although that was revealed later by NBC News in the United States). Crucially, it failed to record that TF 373 had fired five rockets, destroying the madrasa and other buildings and killing seven children, before anybody had fired on them – that this looked like a mission to kill and not to capture. Indeed, this was clearly deliberately suppressed.
The internal report was marked not only "secret" but also "Noforn", ie not to be shared with the foreign elements of the coalition. And the source of this anxiety is explicit: "The knowledge that TF 373 conducted a HIMARS strike must be protected." And it was. This crucial fact remained secret, as did TF 373's involvement.
Again, the lethal attack caused political problems. The provincial governor arranged compensation and held a shura with local leaders when, according to an internal US report, "he pressed the Talking Points given to him and added a few of his own that followed in line with our current story". Libi remained targeted for death and was killed in Pakistan seven months later by a missile from an unmanned CIA Predator.
The final outcome, listed tersely at the end of the leaked log: 12 US wounded, two teenage girls and a 10-year-old boy wounded, one girl killed, one woman killed, four civilian men killed, one donkey killed, one dog killed, several chickens killed, no enemy killed, no enemy wounded, no enemy detained.
The coalition put out a statement claiming falsely to have killed several militants and making no mention of any dead civilians; and later added that "several non-combatants were found dead and several others wounded" without giving any numbers or details.
The pursuit of these "high value targets" is evidently embedded deep in coalition tactics. The Jpel list assigns an individual serial number to each of those targeted for kill or capture and by October 2009 this had reached 2,058.
The process of choosing targets reaches high into the military command. According to their published US Field Manual on Counter Insurgency, No FM3-24, it is policy to choose targets "to engage as potential counter-insurgency supporters, targets to isolate from the population and targets to eliminate".
A joint targeting working group meets each week to consider Target Nomination Packets and has direct input from the Combined Forces Command and its divisional HQ, as well as from lawyers, operational command and intelligence units including the CIA.
The logs include references to the tracing and killing of other targets on the Jpel list, which do not identify TF 373 as the unit responsible. It is possible that some of the other taskforce names and numbers which show up in this context are cover names for 373, or for British special forces, 500 of whom are based in southern Afghanistan and are reported to have been involved in kill/capture missions, including the shooting in July 2008 of Mullah Bismullah.
It is not clear whether "taken out" meant "killed" and the logs do not record any of their deaths. But one of them, Qari Baryal, who was ranked seventh in the Jpel list, had already been targeted for killing two months earlier.
The report records that some 70 people ran to the compound and started digging into the rubble, on which there were "pools of blood", but subsequent reports suggest that Baryal survived and continued to plan rocket attacks and suicide bombings.
Numerous logs show Jpel targets being captured and transferred to a special prison, known as Btif, the Bagram Theatre Internment Facility. There is no indication of prisoners being charged or tried, and previous press reports have suggested that men have been detained there for years without any legal process in communal cages inside vast old air hangars. As each target is captured, he is assigned a serial number. By December 2009, this showed that a total of 4,288 prisoners, some aged as young as 16, had been held at Btif, with 757 still in custody.
Who are TF373?
The leaked war logs show that Task Force 373 uses at least three bases in Afghanistan, in Kabul, Kandahar and Khost. Although it works alongside special forces from Afghanistan and other coalition nations, it appears to be drawing its own troops from the 7th Special Forces Group at Fort Bragg, North Carolina and to travel on missions in Chinook and Cobra helicopters flown by 160th special operations aviation regiment, based at Hunter Army Airfield, Georgia.