Iran won't halt production of high-grade uranium
Apparent shift in stance will complicate talks
TEHRAN - Iran will not halt its enrichment of uranium up to 20 percent, the country's nuclear chief told state television on Sunday, backing away from an earlier offer that suggested it might be prepared to cease production of the higher-grade nuclear material.
The official, Fereydoon Abbasi, also announced that Iran would start building two new nuclear power plants in 2013 and that the Islamic Republic's only active nuclear reactor is getting close to full production levels, after a delay of many years.
He made clear that there will be no suspension of enrichment by Iran, a key demand of a handful of United Nations Security Council resolutions. "We have no reason to retreat from producing the 20 percent because we need 20 percent uranium just as much to meet our needs,'' Abbasi said, according to Iranian state TV.
Abbasi's remarks are bound to further complicate already difficult nuclear talks between Iran and world powers, which after an unsuccessful meeting Wednesday and Thursday in Baghdad will continue in Moscow on June 18.
If the talks fail, the world powers are planning to tighten sanctions on Iranian exports and financial dealings as early as July 1, including placing an embargo on all purchases of Iranian oil in Europe.
Iran's enrichment of uranium is at the center of those discussions, with Western countries suspecting the country of stockpiling enriched uranium that could rapidly be converted into weapons-grade material. Iran says it only wants to produce civilian nuclear energy.
Before the meeting in Baghdad, Abbasi had hinted that Iran was ready to compromise on its program of enriching uranium up to 20 percent with the isotope capable of sustaining nuclear fission, which it says it needs to fuel an aging US-designed medical reactor.
Iranian negotiators were under the impression that the Obama administration and its allies, in return, were willing to allow Iran to continue to enrich up to a lower percentage. But during the Baghdad meeting it became clear that such an offer is not on the table for now.
Instead world powers offered another proposal, which called for Iran to export its stockpile of the more highly enriched uranium and suspend any further production. In exchange, the country was to receive supplies of medical isotopes.
That plan was turned down by Iran's negotiators, who made a counterproposal that would allow the Islamic Republic to continue to enrich uranium.
Iran wants Western oil embargo and banking sanctions eased before considering suspension of 20 percent enrichment. It also called for nuclear disarmament and cooperation in the fight against Somali pirates.
Each side expects the other to take the first significant steps, without wanting to compromise on key issues, a European diplomat familiar with the talks said.
Iranian officials have been unclear on how much of the more highly enriched uranium they want to produce.
A Friday report by the International Atomic Energy Agency stated that Iran has produced 145 kilograms of uranium enriched up to 20 percent, more than it ordered in 1988 from Argentina. In April, Abbasi said that Iran plans to build five more medical reactors and that it needed to create a stockpile of fuel for that purpose.
The six Western powers involved in the negotiations - the United States, Russia, China, Britain, France, and Germany - fear the more highly enriched uranium could be quickly boosted to weapons-grade material of 95 percent. But there are experts who doubt that the country is capable of doing so.
The IAEA report on Iran's nuclear activities also stated that in one instance, uranium enriched up to 27 percent was found. Abbasi said this was a technical or operational mistake. Western analysts on Friday agreed that such an explanation is plausible.
On Sunday, President Mahmoud Ahmadinejad, who has been largely sidelined in the nuclear talks by Iran's supreme leader, Ayatollah Ali Khamenei, urged the country's Parliament to stand with him against the "evil ones'' who he said have encircled the nation.
Ahmadinejad's address to the opening session of the Parliament was seen as an appeal to conservative opponents who crushed his allies in an election earlier this month.
"Today, evils have been mobilized from all directions to put the Iranian nation under pressure. Removing and resisting the pressures, and cooperation, are the main priority today,'' Ahmadinejad said without elaborating.
On Saturday Abbasi, who in 2010 survived an assassination attempt on his life, also highlighted complications in talks with the IAEA, which took place in Tehran two days before the meeting with world powers.
After the talks wrapped up, the IAEA's Secretary General, Yukiya Amano, who had flown to Tehran for the first time since his appointment in 2009, said he was near an agreement with the Iranians on extra inspections, including at a military base, Parchin, near Tehran, where the agency suspects military nuclear activities.
Iran's nuclear chief made clear that such an agreement would be signed only if the agency presented evidence to the Islamic Republic that proved it was pursuing illegal nuclear activities on the site.
"The reasons and documents have still not been presented by the agency to convince us to give permission for this visit,'' Abbasi was quoted as saying by Fars news agency Saturday.
"We have no reason to retreat from producing the 20 percent because we need 20 percent uranium just as much to meet our needs," said Iran's nuclear chief Fereydoon Abbasi-Davani,
according to the New York Times
.
Nuclear watchdogs have eyed Iran's Parchin complex as the central hub of any nuclear weapon's activity, though Tehran has repeatedly denied harboring such ambitions. The government has denied access to the complex, calling it a military site.
"The reasons and document have still not been presented by the agency to convince us to give permission for this visit," Abbasi-Davani said.
Iran Closes Door On Inspectors, Promises To Continue Uranium Enrichment
May 27, 2012 3:58 PM EDT
During the gathering, Western diplomats reportedly offered Iran spare parts for a civilian aircraft in exchange for a promise to end high-level enrichment activities.
"Giving spare parts for civilian aircraft is considered too little and too insulting for Iran, while it expected easing of oil sanctions," said a senior Asian diplomat in Tehran, according to the Financial Times.
The group will meet again in Moscow next month to continue talks in an attempt to avert a potentially catastrophic confrontation in the Middle East.
The International Atomic Energy Agency last week reported satellite images showing "extensive activities" at Parchin. Though the report lacked specifics, Western diplomats pointed to the activities as a clean-up effort, with Tehran trying to cover its tracks, according to Reuters.
IAEA chief Yukiya Amana said last week after visiting Tehran that Iran was close to allowing inspections at nuclear facilities, though some more issues remained.
Concerns have grown over Iran's nuclear capabilities, after it was discovered it began enriching uranium to 20 percent fissile purity, progressing toward the 90 percent needed to make a weapons-grade nuclear arsenal.
"There is no reason for us to give up enriching uranium to 20 percent because we produce this fuel only to meet our needs, no more and no less," Abbasi-Davani said.
Tehran has contested claims to nuclear weapon ambitions, saying the uranium is needed to fuel power plants.
Iran: No reason to halt 20 percent uranium enrichment despite international demands
TEHRAN, Iran —
Iran's nuclear chief said Sunday there are no reasons at the moment for his country to halt production of uranium enriched to 20 percent, a key demand of world powers, and Iran is planning two new reactors.
The West is concerned that the 20-percent enrichment could quickly be turned into nuclear weapons-grade material. Iran insists its nuclear development program is for peaceful purposes.
The nuclear chief, Fereidoun Abbasi, was quoted by the semiofficial ISNA news agency as saying that Iran will continue the higher enrichment level for a medical research reactor that produces isotopes for treatment of about 1 million cancer patients in Iran.
"There is no reason for us to back down on 20 percent-level enrichment, because we produce only as much 20 percent material as we need," Abbasi said. "Not more, not less."
Abbasi said Iran is planning to build at least two new nuclear power plants next to an existing facility that became operational with Russia's help last year.
Abbasi was quoted by state TV as saying Sunday that Iran is in the very early stages of planning the new 1,000-megawatt nuclear power plants and that it may begin construction within a year or two.
He also said Iran has not yet been convinced to allow the U.N. nuclear agency access to a military complex to probe suspicions that in 2003, Tehran secretly tested explosives needed to set off a nuclear bomb. The suspected blasts would have taken place inside a pressure chamber.
Abbasi's statement about enrichment echoed Iran's objections last week at a meeting with world powers in Baghdad to a proposal to suspend 20 percent enrichment in exchange for a U.S.-supported package that would include supplying Iran with radioactive material and civilian plane spare parts.
Iran seeks to have Western oil embargo and banking sanctions eased before considering suspension of 20 percent enrichment.
The six powers — the United States, Russia, China, Britain, France and Germany — fear the higher-enriched uranium could be quickly boosted to weapons-grade material of 95 percent.
U.S. officials have said Washington will not ease its insistence that Iran must fully halt uranium enrichment, but speculation is increasing that the priorities have shifted to block the 20 percent enrichment level while possibly allowing Iran to maintain lower-level nuclear fuel production, at least for now.
Abbasi said a visit by IAEA to Parchin military site, southeast of Tehran, will not come any time soon.
"We haven't been convinced yet (to allow an IAEA visit to Parchin). No reasons and documents have been presented to enable us to arrange a visit to Parchin, which is a military site," he was quoted by ISNA as saying.
Iran has never said whether the alleged chamber existed, describing Parchin as a conventional military site, not a nuclear facility.
Iran previously said IAEA inspectors would be allowed to visit Parchin, but first there would have to be agreement between the two sides on guidelines for the inspection.
Iran Diserang Virus Komputer Super Canggih
Selasa, 29 Mei 2012, 12:14 WIB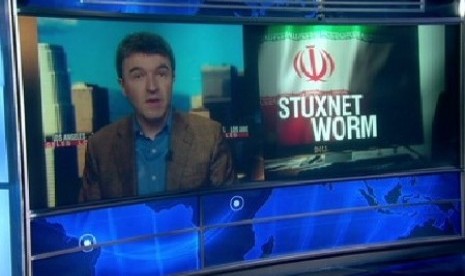 REPUBLIKA.CO.ID, BOSTON -- Para ahli keamanan mengatakan virus komputer sangat canggih mulai menyerang di Iran, dan negara lain Timur Tengah, dan diduga telah disebar setidaknya lima tahun lalu untuk melakukan dalam kegiatan mata-mata dunia maya.
Bukti menunjukkan virus tersebut, yang dinamakan "Flame", mungkin telah dibuat atas nama negara atau beberapa negara yang sama yang menghasilkan "cacing" Stuxnet, yang menyerang program nuklir Iran pada 2010, kata Kaspersky Lab, pembuat perangkat lunak keamanan maya Rusia. Perusahaan itu mendapat pujian karena menemukan virus komputer tersebut.
Para peneliti Kaspersky menyatakan mereka masih harus memastikan apakah Flame memiliki misi khusus seperti Stuxnet, dan tak bersedia menyebutkan siapa yang mereka duga telah membuatnya. Iran telah menuduh Amerika Serikat dan Israel sebagai penggelar Stuxnet.
Para ahli keamanan dunia maya mengatakan temuan itu memperlihatkan apa yang telah lama diketahui para ahli, yaitu soal aksi banyak negara yang kode komputer sebagai senjata untuk mendorong kepentingan keamanan mereka selama bertahun-tahun.
"Ini adalah satu dari amat banyak upaya yang terjadi sepanjang waktu dan tak pernah memasuki ranah umum," kata Alexander Klimburg, ahli keamanan dunia maya di Austrian Institute for International Affairs.
Pihak Iran sendiri mengungkapkan, Flame terkait erat dengan Stuxnet, "cacing" komputer dengan reputasi sangat buruk, demikian laporan Reuters.
Stuxnet telah menyerang program nuklir Iran pada 2010 dan saat ini dikenal luas sebagai contoh senjata maya.
Tim Reaksi Darurat Komputer Nasional di Iran juga mengatakan Flame mungkin berkaitan dengan serangan saiber baru-baru ini yang dikatakan para pejabat di Teheran mengakibatkan hilangnya data dalam jumlah sangat banyak di sebagian sistem komputer Iran.
Redaktur:
Endah Hapsari.
Sumber:
Antara