Iran Nuclear Summit: 'Expectations Will Be Very High'
Last updated (GMT/UTC): 30.04.2012 08:20
W
ith talks between Iran and Western powers on the Persian Gulf country's nuclear program scheduled to take place in Baghdad on May 23, RFE/RL Radio Farda's Fred Andon Petrossians spoke with Middle East specialist
Kenneth Katzman
about the possible outcomes of this crucial summit.
RFE/RL: U.S. Secretary of State Hillary Clinton says that the Iranians will probably be asking for assurances or actions from the West in regard to nuclear negotiations and that these would be taken into consideration. In your opinion, what kinds of assurances or actions will the Iranians be looking for?
Kenneth Katzman: Well, I think, on the one hand, that Iran has asserted that it needs a certain amount of uranium...20-percent enriched uranium...for medical use. So what is being discussed is that Iran might agree to stop enriching its own uranium to 20 percent.
But the international community would have to verifiably pledge and [ensure] that Iran [is provided] with that medical uranium -- the medical isotopes -- for medical use.
Iran also wants to know -- if they agree to make some compromises -- that some sanctions might be eased, particularly the European oil embargo that is scheduled to take full effect on July 1.
Iran wants full assurances that this could be delayed or maybe even voided entirely.
RFE/RL: A high-ranking Russian official has said that Russia's "step-by-step" plan could be attractive to both the Iranians and the West. Do you think this offers a solution to the Iranian nuclear crisis at this juncture?
Katzman: Well, that has been the Russian plan since 2010. I think Russia came up with a stepwise approach, whereby Iran might take a verifiable step and some sanctions might be eased, and then Iran might implement further steps and sanctions might be eased further.
That plan has been attracting interest for almost two years and...I believe the [U.S.] State Department said on record that it helped formulate that plan with Russia [and that] they worked with Russia on that proposal.
So, yes, I think it is a basis [for progress]... In [EU foreign policy chief Catherine] Ashton's statement after the talks in Istanbul, she mentioned the word "reciprocity," which means that if Iran takes a step then the
P5+1 group
would have to take a step to ease the sanctions -- to provide some assurances. So, yes, this is a basis for negotiations: step by step.
​​
RFE/RL: Hossein Musavian, one of Iran's top negotiators for the previous government, has told CNN that this time Iranians are proceeding in good faith and that the country's efforts at nuclear enrichment have been consigned to history. Do you believe if Iran signs the additional protocol of the Nonproliferation Treaty that Iran can continue enrichment under the supervision of the International Atomic Energy Agency?
Katzman: I think the P5+1 have moved their position and they [agree] that Iran would be allowed to keep enriching uranium but only to maybe 5 percent, which is suitable for electricity only.
And that is a movement from the previous position, which said no enrichment at all in Iran itself.
Yes, I think there could be a solution. The issue is 20-percent enriched uranium. I think the P5+1 are going to demand and I think Iran is going to accept that enrichment to 20 percent be halted.
RFE/RL: You have been quoted in "USA Today" as saying that sanctions are definitely having an effect, but that the question is whether they are "having enough of an effect." In the same article, an Iranian analyst said the country's leaders are pursuing their nuclear aspirations even as evidence mounts that sanctions are hurting the Iranian people. Do you think Iranian civil society is a kind of victim in this situation? Are the sanctions hurting Iranian civil society rather than the regime?
Katzman: It is hurting everybody. But I think it's putting some pressure on the regime. Because there is a fear from the regime that frustration from the economic situation could boil over into new demonstrations and new protests.
So there is definitely an effect, because I think if there was no effect at all, the regime would not maybe even have come to the talks in Istanbul or even agreed to more talks.
So I think it is definitely having the effect that was intended, for now.
​​RFE/RL: Israel's military chief Benny Gantz recently said that the Iranian authorities are rational. The Israelis seem to have changed their tone regarding Iran's leaders. What do you think is behind this? Have they changed their minds or do they want to water down their bellicose rhetoric?
Katzman:
Well, other Israeli figures have said that, too.
Meir Dagan
also said that the Iranian regime is rational.
I think Mr. Gantz represents more of a military point of view. The military tends to be sometimes cautious about the effects of a military reaction and many other Israeli leaders understand that the U.S. is against any military action right now.
And also the Israeli leaders understand the talks are going on. There were talks in April. There'll be more talks at the end of May, and I think the Israeli leaders are trying to communicate that certainly there will be no consideration of Israeli military action while these talks are proceeding.
RFE/RL: You have long followed Iranian policy. Among other things, you have written articles and advised Congress on the subject. What do you expect from the nuclear negotiations in Baghdad?
Katzman: I think the expectations for the Baghdad talks are going to be very high. The expectations were low for the Istanbul talks, because there had not been talks for more than one year.
But the expectations are now raised because there are technical proposals being drafted before the Baghdad talks.
In the second round, there certainly is an expectation of getting down to concrete progress; maybe getting some outlines on what is going to be agreed to.
Maybe it won't result in precise details of a contract or an agreement, but at least an outline of what both sides are going to agree to.
I think there is that expectation for the Baghdad talks. If the talks make no more progress or just very little progress, I think there is going to be disappointment and many will start questioning again whether Iran is sincere in these talks.
*Correction: A previous version of this article incorrectly referred to former Iranian negotiator Hossein Musavian as Mir Hossein Musavi
.
World Powers Meet with Iran in Baghdad
Posted Wednesday, May 23rd, 2012 at 2:15 am
Representatives of six world powers are meeting with Iran's nuclear negotiator in Baghdad to try to negotiate an agreement for Iran to stop producing highly-enriched uranium that Western nations fear could be used to make a nuclear bomb.
Wednesday's meeting comes hours after the head of the U.N. nuclear agency said he expects Iran to sign an agreement with the International Atomic Energy Agency "quite soon" to allow inspections of nuclear facilities. The IAEA has suspected that Iran has used some facilities for a covert nuclear-weapons program.
International Atomic Energy Agency chief Yukiya Amano returned to Vienna Tuesday after meeting chief Iranian nuclear negotiator Saeed Jalili in Iran. Amano said he and Jalili made a "decision to reach an agreement" on U.N. access to Iranian sites, including the Parchin military complex.
Western powers suspect Iran has engaged in atomic weapons research at the site. Tehran says Parchin is a conventional weapons facility and insists the Iranian nuclear program is peaceful.
White House spokesman Jay Carney called the announcement a "step forward" but said Washington would "make judgments about Iran's behavior based on actions, not just promises or agreements."
Israel sees a nuclear-armed Iran as a threat to its existence and refuses to rule out military action against the Iranian nuclear program.
Israeli Defense Minister Ehud Barak accused Iran of trying to create a false impression of progress with the IAEA before nuclear talks with six world powers Wednesday in Baghdad. He said Iran is trying to reduce international pressure to make nuclear concessions and wants to postpone any intensification of sanctions by the foreign powers.
In a separate development, Iran's state-run IRNA news agency said Tuesday the national atomic energy organization has delivered domestically-made nuclear fuel to a research reactor in Tehran for the first time. The report said two batches of the fuel were sent to the site and one was loaded into the reactor, but gave no time frame. There was no independent confirmation of the development.
Western diplomats and analysts have said the Iranian government sometimes exaggerates its nuclear progress to try to improve its bargaining position with world powers and strengthen its domestic support.
London-based nuclear energy expert Malcolm Grimston of Chatham House told VOA the only way for Iran to prove that its nuclear program is peaceful is to accept international offers of enriched uranium for legitimate uses such as the research reactor and power plants. He said Iran also would have to dismantle the technology that allows it to raise its enrichment level to weapons-grade.
Jalili met with Iraqi President Jalal Talibani in Baghdad Tuesday ahead of Iran's nuclear negotiation with the P5+1: Britain, China, France, Russia, the United States plus Germany.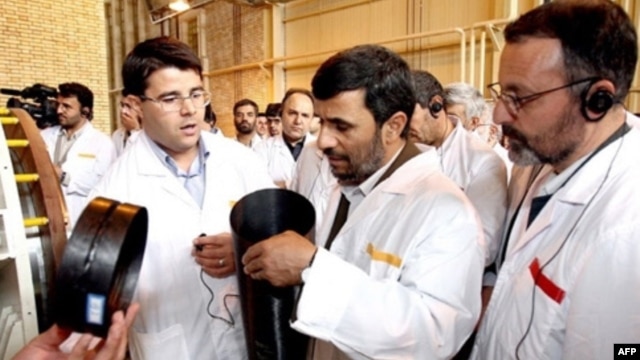 Iranian President Mahmud Ahmadinejad visits one of his country's controversial uranium enrichment facilities at Natanz, south of Iran.
W
orld powers are meeting with Iran in Baghdad this week over the Islamic republic's controversial nuclear program. Here are five things to know ahead of time.
Who is meeting and why?
The five permanent Security Council members -- the United States, Britain, France, Russia, and China -- plus Germany (better known as the P5+1) are sitting down with Iran in the Iraqi capital on May 23 to discuss ways out of the Iran nuclear crisis. Western powers accuse Iran of pursuing a nuclear weapons program under the cover of its nuclear-energy activities. Iran denies the charges.
What's on the agenda?
The most urgent item on the agenda is to convince Iran to give nuclear inspectors access to the
Parchin military site
near Tehran. Concerns over Iran's nuclear intentions have increased since the UN nuclear watchdog, the International Atomic Energy Agency (IAEA), reported in November that Iran has carried out past activities "relevant to the development of an explosive nuclear device."
Western officials suspect Iran built a container at Parchin in 2000 for the probable testing of high explosives and want to know more about experiments there. They also accuse Iran of refusing to let UN inspectors inside Parchin until Tehran can remove incriminating evidence. Iran has dismissed the allegations as "ridiculous."
Overall, the UN Security Council is demanding that Iran suspend uranium enrichment and other activities they say could contribute to acquiring bomb-grade nuclear material until it proves its program is peaceful. Tehran says it has the right to enrich uranium as part of its nuclear energy program.
What expectations are there for the Baghdad meeting?
Expectations are guarded because the Baghdad meeting is only the second since the two sides began speaking again after a break-off of talks early last year. Nonetheless, U.S. officials say they were heartened that Tehran showed a new seriousness when they returned to the table in Istanbul in April and hope that this spirit will continue in Baghdad.
The wildcard is Iran's last-minute agreement with the IAEA to a probe of its alleged nuclear-weapons projects. IAEA chief Yukiya Amano said on May 22 that a deal between Tehran and the IAEA would be signed soon and that Parchin would be part of the agreement.
The announcement heightens speculation that Tehran may call at the Baghdad meeting for the lifting of Western sanctions against the Islamic republic in exchange for letting international inspectors visit controversial sites. If so, that would set the stage for a showdown in Baghdad, where both sides would have to make major concessions to reach common ground.
Ali Vaez, an Iran analyst at the
International Crisis Group
, cautions against
"unrealistically high expectations" for the meeting.
"It is unlikely that any of the parties' top-priority demands will be fulfilled anytime soon," he tells RFE/RL. "It is, however, imperative that the endgame be clear from the start. This should be the goal in Baghdad."
Has Iran given any indication that it will be flexible?
Iran has vowed that sanctions will not force it to give up any aspect of its nuclear program. Supreme Leader Ayatollah Ali Khamenei said in February that "in response to threats of oil embargo and war, we have our own threats to impose at the right time."
This statement raised fears that Iran could try to close the strategic Strait of Hormuz to cut the West off from Persian Gulf oil if the nuclear crisis deepened.
But Iran's readiness to talk raises questions about whether it is really prepared to take an all-or-nothing stance.
"For them, the ideal situation would be not quite having a weapon and therefore not forcing anyone to act against them but to be close enough [to having one] to be taken seriously," says Shannon Kile from the Stockholm
International Peace Research Institute
in Sweden. "That's probably where they are today. Going beyond that situation, costs would probably outweigh the benefits."
How flexible is the West?
Western powers believe Tehran is more serious about talking now because of the tough financial sanctions they have levied upon the Islamic republic in recent months. They have also promised sanctions will tighten further if negotiations show no progress.
U.S. President Barack Obama said at the G8 meeting near Washington last weekend that he was "hopeful about the discussions that will be taking place in Baghdad."
"But all of us are firmly committed to continuing with the approach of sanctions and pressure in combination with diplomatic discussions," he added. "And our hope is that we can resolve this issue in a peaceful fashion."
Washington's sense of resolve on this issue was heightened on May 18 with the U.S. House of Representatives passing a nonbinding resolution stating Iran must be stopped before it achieves a "nuclear-weapons capability."
The resolution reaffirmed "opposition to any policy that would rely on containment as an option in response to the Iranian nuclear threat."
Nonetheless, there are also reports that the White House might be willing to accept some level of enrichment activity from Iran as the price for ending the nuclear crisis.
"The New York Times" reports that officials from the United States and five other major powers are going into the Baghdad meeting prepared to offer inducements to obtain a verifiable agreement that Iran will suspend efforts to enrich uranium beyond the 20-percent level it has achieved.
Any agreement would have to include highly intrusive inspections and other guarantees that Iran's nuclear intentions are peaceful.
With additional reporting by RFE/RL correspondent Golnaz Esfandiari in Washington