Ahmadinejad: No talks on nukes
Published: Nov. 10, 2010 at 7:35 AM
QAZVIN, Iran, Nov. 10 (UPI) -- Iran will not discuss the nuclear issue in proposed talks with major powers, Iranian President
Mahmoud Ahmadinejad
said Wednesday.
"We have repeatedly said that our (nuclear) rights are not negotiable ... . We only hold talks to resolve international problems ... to help the establishment of peace," he said.
The Iranian president made the comments as he toured Qazvin, IRNA, the state news agency, said.
Ahmadinejad was referring to plans by the United States, France, Russia, Britain, Germany and China to discuss the Islamic Republic's nuclear program in proposed talks later this month.
"Iran is ready to hold talks based on an equal footing to help settle ongoing problems, ease international concerns and establish peace and security in the world," Press TV quoted the president as saying.
"If former U.S. President (George W. Bush) had respected (the) rights of other nations, the 9/11 events would have never happened ... . If you held any respect for nations, Iraq and Afghanistan would never been occupied and hundreds of thousands of people there would not have been killed, wounded and misplaced," Ahmadinejad said.
© 2010 United Press International, Inc. All Rights Reserved. Any reproduction, republication, redistribution and/or modification of any UPI content is expressly prohibited without UPI's prior written consent.
Read more:
Iran's new nuke bunker may be war trigger
Published: Jan. 23, 2012 at 12:47 PM
DUBAI, United Arab Emirates, Jan. 23 (UPI) -- Iran's new uranium enrichment plant buried under a mountain outside the holy city of Qom could become the crucial factor in determining whether the United States launches a barrage of military strikes on the Islamic Republic.


Tehran announced Jan. 9 that it had started uranium enrichment at the heavily guarded underground Fordow facility on the fringe of Iran's Great Salt Desert 100 miles south of Tehran.


Enriched uranium can have civilian uses but it's the critical part of the process in producing weapons-grade uranium for nuclear weapons.
The Iranian move was in defiance of escalating U.S.-led Western pressure on the fundamentalist regime to curb such activity.


The Iranians had been saying for months they planned to move their uranium-enrichment equipment to Fordow from the main enrichment plant at Natanz, in west-central Iran, to dramatically boost capacity.
In fact, Western intelligence sources say, transfer of the thousands of centrifuges central to the enrichment process began in the summer of 2011.
The existence of Fordow, which the Iranians carved out of a mountainside over four years, was first disclosed by U.S. President
Barack Obama
in September 2009. Iran later acknowledged it was building the facility but claimed it was for peaceful purposes, as it claims its entire nuclear program to be. But Tehran has never explained why it sought to keep the Qom plant secret.
One reason the Fordow start-up rang alarms bells in the West is that it came hard on the heels of a warning from the International Atomic Energy Agency, a U.N. watchdog, that there was evidence Iran had been working on developing a nuclear warhead for its intermediate-range ballistic missiles.
These are capable of hitting U.S. allies like Saudi Arabia in the Persian Gulf, a region, where the United States has major military bases and troop deployments, as well as Israel.
The concentration of centrifuges in the Fordow bunkers is a timeline "most relevant to military action," observed
Mark Fitzpatrick
, director of non-proliferation at the International Institute for Strategic Studies, a leading London think tank.
Fordow will afford greater protection for the centrifuges than the Natanz plant.
But the timing of the Iranian move may have had more to do with the swelling confrontation between Iran and the United States over Tehran's threats to close the strategic Strait of Hormuz, a vital export artery for Persian Gulf oil.


Closing the strait would almost certainly trigger a U.S. military response, largely from two navy carrier task forces in the region.
But what no doubt interests Western military commanders and planners is that U.S. officials say the work on reinforcing Fordow's natural protection deep in its mountain fastness hasn't been completed.
The U.S. weapon of choice against underground nuclear facilities like Fordow is the GBU-57 Massive Ordnance Penetrator, a 14-ton bomb that can drive through 200 feet of reinforced concrete and is delivered by B-2 and B-52 bombers.


Israel, which has repeatedly threatened to launch pre-emptive attacks against Iran's nuclear infrastructure, would likely want to carry out such a strike itself but it doesn't have bunker-busting bombs powerful enough to do the job.


And anyway, it seems there are questions about the reliability of the laser-guided GBU-28 bombs -- one-third the size of the MOP -- which the Americans finally agreed to supply the Jewish state in September 2011.
Israel received 55 of the 5,000-pound precision-guided bombs in a gesture intended by Washington to improve strained ties with Israel over its constant threat to attack Iran unilaterally.
The Jerusalem Post reported that Israel is "seeking clarifications from the United States to ensure that bunker-buster bombs it recently purchased are not carrying defectives fuses that could cause their premature detonation."
This concern arose after the U.S. Justice Department announced Dec. 23 it had reached a settlement with the Kaman Corp., which allegedly substituted fuses made for the bomb, under which Kaman will pay the U.S. government $4.75 million.
The Defense Department announced in September 2010 it had awarded Kaman Precision Products, a Kaman subsidiary, a $35 million contract to provide fuses for GBU-28s sold to four foreign countries, apparently including Israel.
The United States has long opposed a unilateral Israeli strike against Iran, saying it would likely touch off a potentially catastrophic conflict across the Mideast.
© 2012 United Press International, Inc. All Rights Reserved. Any reproduction, republication, redistribution and/or modification of any UPI content is expressly prohibited without UPI's prior written consent.


Read more: http://www.upi.com/Top_News/Special/2012/01/23/Irans-new-nuke-bunker-may-be-war-trigger/UPI-80541327340844/#ixzz1kRMHbMIH
Posted on Monday, 01.23.12
Europe, US impose new Iran sanctions but repeat offer for talks
BY JONATHAN S. LANDAY
MCCLATCHY NEWSPAPERS
WASHINGTON --
Even as they tightened the financial screws on Iran with new sanctions on Monday, the United States and its European allies reiterated their readiness to resume talks with Tehran on curbing what they suspect is a secret nuclear weapons development program.
European Union foreign ministers agreed to a phased ban on Iranian oil purchases by the bloc's 27 states, and the Obama administration took action under which foreign institutions doing business with Iran's third largest bank could be cut off from the U.S. financial system. The blacklisting of Bank Tejarat brought to 23 the number of Iranian financial institutions under U.S. sanctions for allegedly funding Iran's nuclear and ballistic missile programs.
By intensifying the pressure on Iran - but keeping the door open to talks - the United States and the EU underscored their goal of averting what many experts fear is a rising threat of a Persian Gulf military confrontation that could disrupt exports from the world's main oil-producing region, dealing a fresh blow to the wobbly global economy.
"To avoid any military solution, which could have irreparable consequences, we have decided to go further down the road to sanctions," French Foreign Minister Alain Juppe said in Brussels. "It is a good decision that sends a strong message and which I hope will persuade Iran that it must change its position, change its line and accept the dialogue that we propose."
The Obama administration hailed the EU decision, under which the bloc's members won't sign new oil contracts with Iran and will terminate existing agreements by July 1. The ban also applies to purchases of Iranian petrochemical products and sales of petroleum technology to Tehran.
In a joint statement, Secretary of State Hillary Clinton and Treasury Secretary Timothy Geithner called the EU move a "strong step." But they reiterated that the United States and other powers were looking for Iran "to engage seriously in discussions with the international community on its nuclear program."
Since 2003, Iran has defied six U.N. resolutions demanding that it suspend its enrichment of uranium, which it kept hidden from international inspections for 18 years. The process produces low-enriched uranium, for power generation, and highly enriched uranium, which is used to fuel nuclear weapons.
Iran insists that the program is for peaceful purposes. But the U.N. International Atomic Energy Agency reported in November that Iran had been working on a missile-borne nuclear warhead, and that it still may be pursuing some parts of the effort.
The EU action targeting Iran's oil exports - the country's main source of income - followed a similar move by President Barack Obama, who signed legislation Dec. 31 that denies access to the U.S. financial system to foreign entities that do business with Iran's central bank. The central bank handles most payments for Iranian oil sales.
Iran is beginning to suffer serious economic consequences from U.N. sanctions and unilateral U.S. and EU measures. But Tehran showed no sign Monday of officially accepting a 3-month-old EU invitation to resume talks on its nuclear program.
Iranian Deputy Foreign Minister Abbas Aragchi told the state-run news agency that sanctions "have proved ineffective in the past and will prove futile in the future, too."
EU nations, which are collectively the world's second largest purchaser of Iranian oil, will suffer "further complications" to their own struggling economies as a result of their Iranian oil purchase ban, Aragchi said.
Two senior Iranian lawmakers also were quoted by state-run media as reiterating a threat to blockade the Strait of Hormuz, the narrow waterway at the mouth of the Persian Gulf through which some 40 percent of the world's seaborne oil is shipped, in response to a disruption of Iranian petroleum exports.
The renewed threat came a day after a U.S. Navy strike group led by the USS Abraham Lincoln, a nuclear-powered aircraft carrier, cruised into the Persian Gulf through the Strait of Hormuz. It was joined by French and British warships - an unambiguous statement of resolve to use force if Iran tries to blockade the 30-mile-wide passage.
Asked how Iran could show that it would engage in serious talks on its nuclear program, an administration official told McClatchy Newspapers that Tehran must agree to resume negotiations "without preconditions."
The last talks collapsed in January 2011after Tehran demanded international recognition of its right to uranium enrichment and the lifting of all sanctions before it would discuss the nuclear program.
"Iran must provide an assurance that it is prepared to reopen talks without preconditions and engage in a constructive and serious manner," said the administration official, who requested anonymity because he wasn't authorized to discuss the issue publicly. "We are not interested in talks for show alone."
An EU diplomat, who requested anonymity for the same reason, said that Iran would have to respond to the EU invitation by stating unambiguously "that they are prepared to discuss the nuclear issue."
Rabu, 2 Rabiul Awwal 1433 / 25 Januari 2012 | 11:56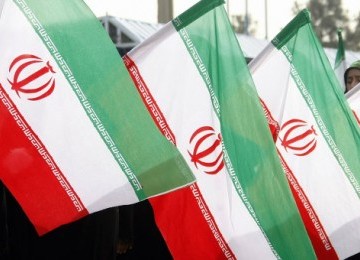 Bendera Iran
TERKAIT :


















































Iran : Kami Inspirator Dunia Islam
Rabu, 25 Januari 2012 09:26 WIB
REPUBLIKA.CO.ID, TEHERAN - Menteri Intelijen Iran Heidar Moslehi mengatakan
bahwa tekanan yang diberikan oleh Barat pada bangsa Iran, untuk membuat
Teheran menghentikan dukungan pada Kebangkitan Islam tidak akan efektif.
Dan Iran akan terus mempertahankan perannya menjadi inspirasi di antara
negara-negara Muslim.
"Musuh berusaha untuk membatasi pengaruh regional Teheran dengan terus melibatkan
masalah ke internal Iran. Namun kami akan melanjutkan peran sebagai inspirator
bagi kebangkitan dunia Islam ," kata Moslehi dalam laman trend.az, Rabu (25/1).
Dia menyebut sanksi embargo minyak terhadap Iran, bukanlah ancaman. Dan Teheran
menganggap bahwa hal itu sebagai sebuah kesempatan."Di dunia sekarang ini situasi
ekonomi Uni Eropa tidak akan mengizinkan untuk membuat tekanan ekonomi yang
serius terhadap Teheran dengan menyetujui embargo," kata Moslehi di Isfahan.
Pemimpin Tertinggi Revolusi Islam Ayatollah Seyed Ali Khamenei juga sebelumnya
mengingatkan, bahwa musuh-musuh terus berupaya maksimal untuk mencegah
gerakan dan Kebangkitan Islam. Dan ini dimulai dari Iran.
Iran transferring centrifuges to bunker
Published: Aug. 22, 2011 at 8:44 AM
TEHRAN, Aug. 22 (UPI) -- Iran is transferring centrifuges from its Natanz nuclear facility to the Fordow nuclear enrichment plant in the north, the country's atomic energy chief said.
The centrifuges are being taken to an underground bunker at the recently constructed plant, Britain's Telegraph reported.
"Transferring the centrifuges of the Natanz site to Fordow is under way with full observance of standards," Fereydoun Abbasi-Divani, head of the country's Atomic Energy Organization, was quoted as saying by IRIB (Iran broadcasting), Press TV and the semi-official Fars news agency reported Monday.
Abbasi-Divani said Sunday some centrifuges have already reached the Fordow plant, the country's second largest enrichment site, located near the northern city of Qom.
In June, he announced plans to transfer 20 percent of the country's uranium enrichment to the Fordow plant.
The British daily said since Iran raised the level of enrichment to 20 percent last year it has produced 125 pounds ( 56.7 kilograms), about half the amount needed for a weapon.
Iranian Foreign Minister Ali Akbar Salehi said the International Atomic Energy Agency was informed of the transfer of nuclear activities to the Fordow plant, IRIB said.
Iran accelerates nuclear program
Published: July 19, 2011 at 8:12 AM
TEHRAN, July 19 (UPI) -- Iran is installing a new generation of centrifuges in its nuclear facilities, Foreign Ministry spokesman Ramim Mehmanparast said Tuesday.
Mehmanparast told the weekly press briefing the new centrifuges will help speed up the country's nuclear program, the official IRNA news agency said.
"By installing the new generation of centrifuges the country's progress in regard to its peaceful nuclear activities is being made with more speed and better quality," Mehr News Agency quoted him as saying.
The spokesman said the work is being carried out under the supervision of the International Atomic Energy Agency.
"The Islamic Republic of Iran is pushing ahead with its peaceful nuclear activities regardless of restrictions and the measures taken to halt them," Mehr quoted Mehmanparast as saying.
Last month Fereydoun Abbasi Davani, head of the country's Atomic Energy Organization, announced research work on the new centrifuges had been completed and 164 new generation centrifuges would soon be installed in the Natanz and Fordo enrichment facilities, Mehr said.
© 2011 United Press International, Inc. All Rights
© 2011 United Press International, Inc. All Rights Reserved. Any reproduction, republication, redistribution and/or modification of any UPI content is expressly prohibited without UPI's prior written consent.
Read more: http://www.upi.com/Top_News/World-News/2011/08/22/Iran-transferring-centrifuges-to-bunker/UPI-16911314017083/#ixzz1kRMtWmbO
Iran ready to resume talks with West
Published: April 19, 2011 at 9:54 AM
Email
Print
Listen
TEHRAN, April 19 (UPI) -- Iran said Tuesday it is ready to resume talks with Western powers, but the nuclear issue would not be on the table.
Foreign Ministry spokesman
Ramin Mehmanparast
told the Iranian Student News Agency the government is willing to meet with the P5-plus-one group -- Security Council permanent members China, France, Russia, Britain and the United States, plus Germany -- at any time.
Catherine Ashton, the European Union's foreign policy commissioner, recently asked Iranian negotiator Saeed Jalili to restart talks.
"We are set to pursue the issue, whenever the other party is ready," Mehmanparast said. But he added, "We believe that our nuclear work is underway in a natural way" and "other shared issues can be discussed."
Iran denies accusations that its nuclear fuel enrichment program is intended to produce weapons
Mehmanparast also said the trip of Iranian U.N. Ambassador Mohammad Khazaei to Cairo "was not in the framework of bilateral ties. His trip came for a specialized meeting sponsored by the U.N. in which no framework for bilateral relations was defined."
Iran cut diplomatic relations in 1979 after Egypt signed a peace treaty with Israel.
© 2011 United Press International, Inc. All Rights Reserved. Any reproduction, republication, redistribution and/or modification of any UPI content is expressly prohibited without UPI's prior written consent.