A rapid appreciation of the U.S. dollar may send Brent oil to as low as $20 a barrel, according to Morgan Stanley.
Oil is particularly leveraged to the dollar and may fall between 10 to 25 percent if the currency gains 5 percent, Morgan Stanley analysts including Adam Longson said in a research note dated Jan. 11. A global glut may have pushed oil prices under $60 a barrel, but the difference between $35 and $55 is primarily the U.S. dollar, according to the report.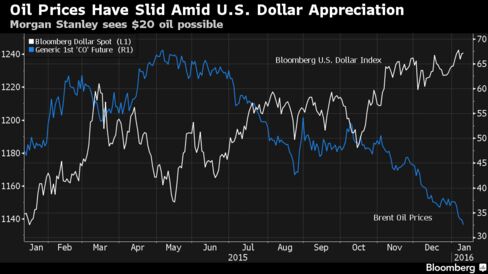 "Given the continued U.S. dollar appreciation, $20-$25 oil price scenarios are possible simply due to currency," the analysts wrote in the report. "The U.S. dollar and non-fundamental factors continue to drive oil prices."
Brent crude capped its third annual decline in 2015 and has already lost more than 11 percent so far this year. The Organization of Petroleum Exporting Countries effectively abandoned output limits in December, potentially worsening a global glut, while U.S. stockpiles remain about 100 million barrels above the five-year average.
Oil tumbled last week on volatility in Chinese markets after the country sought to quell losses in equities and stabilize its currency. A 3.2 percent increase in the U.S. dollar -- as implied by a possible 15 percent yuan devaluation -- may drive crude in the high $20s, Morgan Stanley said. If other currencies move as well, the shift by both the dollar and oil could be even greater, according to the report.
Brent crude closed at $33.55 a barrel on the London-based ICE Futures Europe exchange on Friday, the lowest settlement since June 2004. Prices extended their declines Monday, losing 1.6 percent to $33.03 at 9:16 a.m. in London.
Storage Tanks
Morgan Stanley is not the first to forecast a drop to $20 oil, but its reasons differ from other banks. Goldman Sachs Group Inc. has said there's a possibility storage tanks will reach their limit, pushing crude down to levels necessary to force an immediate halt to some production.
Stockpiles at Cushing, Oklahoma, the delivery point for U.S. benchmark crude and the nation's biggest oil-storage hub, expanded for a ninth week to 63.9 million barrels through Jan. 1, according to Energy Information Administration data. The hub has a working capacity of 73 million barrels.
"Oil in the $20s is possible, but not for the reasons often cited," Morgan Stanley said. "It's not about deteriorating fundamentals."
U.S. Stocks Rally as Consumer Shares Offset Oil, China Selloffs
http://www.bloomberg.com/news/articles/2016-01-10/asian-stock-futures-signal-more-pain-as-rand-sinks-to-record-low
Agnieszka De Sousa
Freeport shares drop most among companies in S&P 500

World mining index falls as BHP touches lowest since 2005
Copper producer shares plunged as prices of the metal reached a fresh six-year low on concerns the economic slowdown is worsening in China, the world's biggest consumer.
Freeport-McMoRan Inc., the top publicly traded copper producer, tumbled as much as 20 percent, the biggest intraday loss since 2008 and leading declines for companies tracked by the Standard & Poor's 500 Index. BHP Billiton Ltd., the world's largest miner, reached the lowest in a decade. Chinese stocks tumbled after data over the weekend showed the country's inflation in December stayed at about half of the government's 2015 target.
The Bloomberg Industrial Metals subindex slumped 3.9 percent last week as Chinese growth concerns sparked global market turmoil and fanned fears that the nation's demand for commodities will drop further. The Bloomberg World Mining Index of 80 equities on Monday fell for a fourth day, to the lowest since 2004.
"The continuation of the weakness in Asian equity markets continues to build concerns about Chinese demand in copper," David Meger, the director of metals trading at High Ridge Futures in Chicago, said in a telephone interview. "There's the obvious correlation of weakness in the equity market and the expectation of that being in close correlation with a weak Asian economy."
On the Comex, copper futures for March delivery slumped 2.4 percent to settle at $1.9725 a pound at 1:12 p.m. in New York, after touching $1.9665, the lowest since April 2009. On the London Metal Exchange, copper, aluminum, nickel, lead, tin and zinc dropped.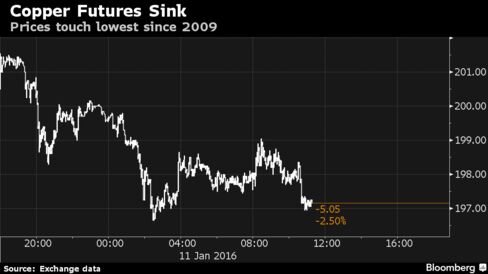 Stockpiles of copper in warehouses tracked by the LME climbed to highest in more than a month, indicating supplies are becoming more ample.
BHP shares fell 4.9 percent in Australia after touching the lowest since May 2005. Phoenix-based Freeport fell to the lowest since 2001.
Alcoa Inc., the biggest U.S. producer of aluminum, unofficially kicks off the reporting season after markets close Monday. The shares retreated for an eighth straight session.
"Markets are pricing slower growth in China," Jens Naervig Pedersen, an analyst at Danske Bank A/S in Copenhagen, said by e-mail. "The base-metals market badly needs some comfort from U.S. and Chinese monetary policy makers and stronger macroeconomic key figures."
Jauhi Kesalahan Finansial Pada 2016
Memasuki pergantian tahun. Anda mungkin sudah mulai bingung akan resolusi finansial apa yang akan Anda kerjakan atau yang menjadi target Anda di tahun 2016.
Memang, berbagai keingnan serta kebutuhan tentu masuk dalam resolusi Anda tersebut. Mempunyai keinginan untuk dapat lebih hemat, menabung lebih banyak, bisa membeli tempat tinggal, kendaraan dan masih banyak keinginan Anda lainnya.
Tetapi, janganlah menunggu terlalu lama untuk merencanakan keuangan Anda tersebut. Semakin lama Anda merencanakan, semakin dekat pula dengan penghujung tahun, yang sampai akhirnya, Anda justru hanya merencanakan tanpa menjalankan. Karena pengaturan finansial sering diikuti berbagai deretan kesalahan, untuk itu kami rangkum dalam daftar kesalahan finansial berikut ini:
1. Tidak menetapkan aturan
Dalam resolusi yang Anda susun, tentunya banyak tujuan yang ingin dicapai. Agar segalanya bisa diwujudkan, tentunya Anda wajib mengatur pendapatan dan pengeluaran yang selama ini biasa dilakukan. Walaupun tujuan dari disiplin finansial ini hanya untuk diri Anda sendri, Anda wajib mempunyai aturan dalam setiap langkah yang dilakukan. Misal, aturan untuk menyisihkan sekian persen dari pendapatan Anda untuk menabung. Bila melanggar, jatuhkan denda untuk diri Anda sendiri
2. Pensiun itu masih jauh
Pensiun, terutama bagi Anda yang baru bekerja mungkin belum memikirkan hal ini bahkan berpikir, pensiun itu masih sangat jauh. Namun, jika memang Anda mempersiapkannya dari sekarang, bisa dipastikan perbedaannya akan terasa secara signifikan dibanding Anda tidak mempersiapkannya sama sekali
3. Investasi terlalu banyak
Mempunyai rencana di masa depan memang tidak salah, terutama dalam hal investasi. Namun, apakah itu artinya Anda harus berinvestasi dalam jumlah yang besar tanpa memperhitungkannya matang-matang dan terlebih lagi jika Anda rela mengorbankan biaya untuk keperluan sehari-hari dalam investasi Anda tersebut. Justru itu salah, sebab ini akan menjadi masalah di kemudian hari. Karenanya, cobalah buat anggaran untuk setiap aspek dalam kehidupan finansial Anda dan seperti point pertama, disiplin dan patuh terhadap peraturan yang Anda buat
4. Saat darurat, yang paling penting adalah memiliki uang tunai
Ketika keadaan genting atau darurat, Anda hanya memprioritaskan uang tunai. Padahal ada asuransi kesehatan atau asuransi lainnya yang bisa Anda peroleh. Misal, uang tunai memang sementara bisa membiayai penyakit ringan seperti flu atau batuk, namun, apa jadinya jika penyakit kritis yang harus segera membutuhkan pertolongan dengan biaya yang cukup besar. Itulah manfaat asuransi, lebih baik menyisihkan sedikit ketimbang menanggung risiko besar di masa depan
5. Bingung untuk berinvestasi
Berbeda dengan point di atas yang justru berinvestasi dalam jumlah besar tanpa hitungan. Dalam point ini, Anda dikatakan ragu untuk memulai investasi walaupun modal mencukupi dan banyak kesempatan datang menghampiri Anda. Namun, Anda masih belum yakin dengan keputusan yang akan Anda buat. Sebagai referensi, Anda juga dapat membaca Investasi yang Berprospek Cerah di 2016
6. Hidup hanya dengan menghabiskan pendapatan
Kebiasaan buruk yang sering dilakukan adalah menghabiskan seluruh gaji untuk pengeluaran yang tidak perlu. Orang cenderung menghabiskan pengeluarannya tanpa berpikir tentang masa depan. Setidaknya Anda harus menabung dari pendapatan yang Anda dapat sekitar 20%. Dapat disimpulkan, Anda juga masih bergantung dengan satu jalur pemasukan saja, sehingga tidak mempunyai perencanaan untuk menambah pemasukan dari sisi lainnya
7. Lebih besar pasak daripada tiang
Memang kata bijak ini masih sangat cocok untuk merepresentasikan mayoritas keadaan ekonomi sekarang ini. Banyak yang terperosok karena gaya hidup dan ikut-ikutan orang di sekitar karena tidak ingin kalah atau ketinggalan zaman. Hal tersebut justru yang membuat Anda semakin jatuh ke dalam lubang yang paling dalam. Sehingga dalam menjalani kehidupan ini, Anda harus selalu menutup lubang itu hari demi hari, yang lebih mengenaskan jika itu terjadi sepanjang hidup Anda.
Setelah mengetahui berbagai kesalahan finansial yang harus Anda hindari. Setidaknya Anda sudah mengetahui apa yang akan Anda lakukan di tahun 2016. Jika memang masih belum bisa menentukannya, Anda bisa membacanya di Resolusi Finansial Anda di 2016!
Investasi Berprospek Cerah 2016
Tahun 2015 sudah hampir berakhir. Bagaimana dengan pencapaian Anda di tahun ini? Sudah terbilang sukses atau masih ada beberapa yang harus Anda kerjakan untuk memetik kesuksesan tersebut? Jangan sampai terlambat untuk meraihnya. Waktu di tahun 2015 memang belum habis, tetapi akan lebih baik jika bisa merealisasikan target sebelum 2015 ini berakhir.
Di tahun 2015 ini bisa dibilang terjadi perang mata uang, terlihat nyata dengan menguatnya dollar US terhadap mata uang Indonesia, rupiah selama beberapa waktu kemarin. Dengan adanya krisis tersebut, bukan tidak mungkin justru peluang besar terbuka lebar.
Agar Anda tidak terkena dampak seperti itu lagi di tahun mendatang, apakah Anda sudah menyiapkan target untuk di tahun 2016? Atau dengan kata lain, menyiapkan strategi untuk kemajuan bisnis Anda, mau pun investasi yang akan Anda mulai di 2016. Dengan banyaknya investasi yang dapat Anda lakukan, mungkin sebagian dari Anda masih bingung, akan menjatuhkan pilihan terhadap investasi yang paling tepat menurut Anda.
Di sini kami akan membantu Anda dalam menentukan sebuah pilihan investasi yang tepat, beberapa investasi dirasa baik dan memiliki prospek yang bagus di tahun 2016.
Berikut peluang investasi tersebut:
1. Investasi Emas
Emas merupakan salah satu logam mulia yang memiliki keindahan. Emas pun mempunyai nilai investasi yang teramat tinggi serta sangat aman dalam beraneka keadaan, dikarenakan emas memiliki nilai yang stabil dan anti inflasi, bahkan di saat ini nilai emas melambung tinggi setiap harinya. Harga yang selalu meingkay tersebut jika dapat dinvestasikan selama kurang lebih 5 tahun saja, Anda dapat meraup keuntungan berlimpah.
Di tahun 2016 nanti emas masih menjadi salah satu pilhan investasi yang menggiurkan, walaupun harga emas dalam USDollar masih cenderung turun, namun penguatan mata uang USDollar membuat nilai emas masih akan meningkat.
2. Investasi Properti
Investasi di sektor properti diprediksi bakal mengalami peningkatan sebesar 10% hingga 15% pada tahun 2016. Lonjakan investasi tersebut bisa menjadi kenyataan jika disandingkan dengan beberapa faktor krusial.
Penurunan suku bunga SBI yang saat ini masih berada pada level 7.5%, penurunan suku bunga pinjaman dan stabilitas kurs Rupiah terhadap Dollar AS, serta meningkatnya daya beli masyarakat dan kepastian arah kebijakan. Jika hal-hal tersebut memang terjadi, maka peningkatan investasi itu akan terealisasi.
Hal lain yang menjadikan investasi properti selalu tampak menggiurkan adalah sektor perumahan menengah bawah akan selalu diminati, karena demand berasal dari end user yang memerlukan tempat tinggal. Real demand ini yang membuat permintaan di sektor ini tetap terjaga.
3. Investasi Saham
Memang benar adanya bahwa pasar saham memiliki risiko tinggi, tetapi sebaliknya, pasar saham juga menjanjikan keuntungan yang tinggi pula. Itu sebabnya disebut high risk high return. Artinya, risiko dan peluang keuntungan berbanding lurus. Tetap perlu diketahui, risiko pasar saham bukan tidak bisa dikalkulasi, dengan demikian, dampaknya bisa diminimalisasi.
Satu nasihat standar dan terbukti paling mujur bagi yang berinvestasi di pasar saham adalah berorientasi jangka panjang. Jika mengandalkan hasil riset dan informasi secara cermat, investor sudah membuat langkah aman agar investasinya bisa menghasilkan return optimal. Mengapa investasi jangka panjang? Data historis Bursa Efek Indonesia (BEI) bisa menjadi acuan. Berdasarkan hasil riset, sejak BEI diaktifkan kembali pada tahun 1977 sampai dengan tahun 2013, indeks harga saham gabungan (IHSG) bertumbuh rata-rata 18.6%.
Dalam beberapa tahun tertentu IHSG bahkan bisa melesat di atas 30%. Itu sebabnya jika menggunakan rentang lebih pendek, bisa 5 atau 10 tahun, pertumbuhan IHSG bisa di atas 25%.
4. Investasi Reksadana
Reksadana yakni sebuah investasi yang memanfaatkan surat-surat bernilai yang merupakan bukti klaim atau modal. Keunggulan investasi ini ialah jumlahnya pilihan yang sanggup diambil investor buat menanamkan uangnya, merupakan saham, obligasi, atau pasar duit. Sebagai investor Anda tinggal pilih instrumen investasi yang paling pas dengan efek yang bisa Anda tanggung.
Peluang untung abnormal dalam investasi ini justru terjadi ketika ada krisis. Periode krisis bisa menjadi peluang mencari keuntungan yang tidak biasa di reksadana saham menurut analisis Bareksa. Setiap kali reksadana saham mencatat return negatif, saat sudah terjadi pemulihan return yang dihasilkan bisa dua kali lipat dari return negatif tersebut berdasar pada data reksadana saham periode 10 tahun terakhir.
Itulah beberapa peluang investasi yang bisa Anda gapai di tahun 2016. Buat perinciannya sedetail mungkin, jika masih kurang yakin Anda bisa terus mempelajari jenis investasi yang menurut Anda paling cocok dengan Anda. Jangan lupa, perhatikan juga kesalahan ketika menjadi investor pemula di 5 Kesalahan Umum Investor Pemula.
Wal-01(k)s
Funded by Wal-Mart, this automated savings plan
is legally required to pay you a cash distribution

every single month...
You don't have to work for Wal-Mart to participate
in the plan...
And it grows your money 3-5 TIMES faster than
traditional 401k(s)

http://www.angelnexus.com/o/web/91860
You won't find this retirement program advertised on Wal-Mart's website...
But you don't have to work for Wal-Mart to take advantage of it, either.
This little-known savings plan, funded by retail behemoth Wal-Mart, is legally obligated to pay YOU every single month.
It's required to pay you no matter what happens to the economy... no matter what interest rates do... and no matter how high inflation soars.
Once you get the plan set up, you receive these monthly distributions automatically.
It doesn't matter how old you are, what your income level is, or what state you live in...
As long as you have an Internet connection and a brokerage account, you're eligible to participate in a Wal-01(k) plan.
48-year-old Ray Kerr from Arizona got payments of $5,969 a month last year.

Jerry Stevens from Ontario, Canada received a payout of $1,638 just last month.

66-year-old Frank Pettit has had a Wal-01(k) plan for years, and these days, he's getting remarkable payouts — as large as $23,220 a month.

And these payouts have grown bigger and bigger over time.
Wal-01(k) participants have NEVER missed a monthly distribution — not even during the 2008-2009 stock market crash.
And the money doesn't have to stay "locked up" for years like it does in a regular 401(k) or some annuity.
Once the cash hits your account, it's yours to spend as you please. You can withdraw the cash instantly — without penalty.
This has nothing to do with buying shares of Wal-Mart.
It doesn't have anything to do with dividend reinvestment plans.
It doesn't have to do with anything complicated like options or ETFs.
And there is zero day trading involved.
In fact, all you need to get started is just $30.
And this unique retirement vehicle can grow your money

three to five TIMES faster

than a traditional 401(k).
Plus, it pays you an endless stream of monthly cash in all markets, up or down.
Few people know this automated retirement savings plan exists.
I've never seen this opportunity written about in the Wall Street Journal or the New York Times...
And it's really very simple to take advantage of, as I'll show you.
It's as easy as opening up a savings account. But it's 100 TIMES more lucrative.
For 156 consecutive months (that's 13 years straight!), the plan has been paying out distributions to its participants.
Remember, this plan is required

by law

to pay its participants every single month.
I am certain that once you do this, you'll never look at saving for retirement the same way again.
So how can you open up a Wal-01(k) today starting with just $30?
Automated Savings Plan
Turns Every $1 into $18
Recently, Vancouver's main newspaper, The Globe and Mail, reported on just how great being a Wal-01(k) participant can be:
"... a dollar invested [with this savings plan] in 2001 is now worth $18."
That means you could have turned a small $10,000 investment into a whopping $180,000 in profits.
Of course, most Americans have probably not saved anything close to that for retirement.
But here's the best part...
That figure doesn't even include the monthly distributions.
This plan has been paying out every single month for the past 13 years.
And the payouts have NEVER GONE DOWN in value. They've never shrunk. And they've never once been cut.
That's pretty incredible, especially when you consider everything that's happened in the markets during that 13-year time span: a real estate bubble and crash... a war in the Middle East... a huge financial credit crisis... a massive recession... a European debt crisis... an oil crash...
And through all of that market madness, Wal-01(k) plans

NEVER

failed to deliver a monthly distribution to participants.
As far as I'm concerned, this is perhaps the safest stream of passive income you'll ever find in the financial world.
Wal-Mart has more than 5,000 stores nationwide and does over $485 BILLION per year in revenue, which makes it by far the largest retailer in the world.
So as long as Wal-Mart doesn't go bankrupt, which is extremely unlikely, you'll be getting paid. Every SINGLE month.
Even better still is that these MONTHLY payouts have gotten fatter over the past 13 years.
And now you have the opportunity to start banking these fat, steady payouts right away, no matter what your income level is.
Your Ultimate Source for
Reliable Monthly Income
Take George Pritchard in Ontario. He received a cool $2,886 in payouts each month last year.
Or 52-year-old Jeremy Evans in Alberta, who's received distributions of $6,817 per month for the last 12 months...
It doesn't matter what the stock market does — if the United States plunges into another massive recession or if a financial crisis roils Europe or Asia...
The Wal-01(k) distributions keep coming automatically, without any interruptions.
And like I said, once the monthly distribution hits your account, it's yours.
It's cash you're free and clear to spend as you please: take a long vacation... help your kids buy their first house without thinking twice about it... buy that secret getaway home at the beach without worry, and with money left over to furnish it... and throw a party with the extras...
OR you can reinvest the checks back into the savings plan so your money grows and grows.
It's entirely your choice.
Most people in America have to worry about "getting by" each month on Social Security (which is practically impossible these days).
I mean, the average Social Security payment — before taxes and Medicare fees — is a pathetic $1,162 per month...
But armed with a Wal-01(k) plan, you'll have peace of mind knowing you'll be getting a cash distribution every month — without fail.
The monthly payouts keep getting larger and larger, too.
They are now 45% BIGGER than they were when they first began distributing them... and they continue to rise.
And THAT, my friend, is why I'm telling you today about these Wal-01(k) savings plans, which are backed by one of the largest and most profitable retailers in the world.
Just think of it like getting an extra "paycheck"

ON TOP

of what you already collect from Social Security.
Even better, you could pass your plan on to a family member... and they can collect the money long after you're gone.
Like I mentioned earlier, there are absolutely no age limits to collecting this money.
Wal-Mart is contractually obligated to pay you this cash — every month!
So where exactly does the money come from?
Well, it comes out of a fund Wal-Mart is required to put money into each month.
Every company in America has a fund like this. It covers things like lease payments, renter's insurance, and other miscellaneous expenses.
But the most important thing is that it also covers monthly payments to investors like you.
So let me tell you a bit more about these unique plans..
.
156 Consecutive Months of
Distributions and Counting...
You can enroll in a Wal-01(k) and start getting the payments at any age. It doesn't matter whether you're 27 or 97.
You don't need a lot of money to start. All it takes is just $30 to open an account.
And you can get started right now. There's no waiting around for months to be "vested" like you have to with a regular 401(k).
I call it a Wal-01(k) plan because it blows traditional retirement savings vehicles, including 401(k)s, annuities, and IRAs, out of the water.
And it grows your money three to five TIMES faster than a regular 401(k).
After all, it turned $10,000 into $180,000 in profits.
That's a breathtaking 1,700% gain in less than 13 years. That crushes the returns of gold and silver during the same time span.
Even more mind-boggling, that DOES NOT even include any of the 156 monthly payouts you could've been banking!
Indeed, this is a huge opportunity for you to add years to your retirement... to grow your wealth so you won't have to work until you're 70... and to live a lifestyle you've never thought possible since the financial crisis shredded the 401(k)s of millions of everyday Americans.
Remember: This plan is IMMUNE to stock market collapses and recessions.
While most investors got hammered in the 2008/2009 crash, Wal-01(k) plan participants kept receiving steady payouts like clockwork.
The payouts have never gone down in 13 years. That's 156 straight months of robust payouts.
And during that whole time, the size of the payments to investors has only gone one way: UP!
Why Wal-Mart is

FORCED

to Pay
You EVERY SINGLE MONTH
Why are these Wal-01(k) plans so rock-solid?
Well, it's because Wal-Mart

must

put money into the plan's fund every month

before

it can even pay itself.
As I told you earlier, Wal-Mart is MANDATED by law to do this. There's simply no getting around it.
And according to law, money in the plan's fund must be disbursed to investors on a monthly basis.
Wal-Mart has hired a company to administer the fund.
And it automatically makes these disbursements to investors every single month.
As I said before, anyone that's enrolled in the fund is eligible to receive monthly payouts.
And it's really easy to open up a Wal-01(k) plan. There's no messy paperwork to file and no forms to fill out.
Again, this is the best way I know of to get reliable monthly income... and pile up lasting wealth.
It's cash that keeps pouring in — month after month, NO MATTER WHAT!



And you could be on the receiving end of these rich payouts.
But it's your choice...
So if this sounds like something you're interested in, I've written up a briefing on how you can open up your own account immediately.
It's called: "Wal-01(k)s: The Automated Monthly Savings Plan That Crushes 401(k)s, IRAs, and Annuities."
This report will tell you exactly what you need to do to start receiving your monthly payouts.
It's as easy as buying a stock online.
But before I show you how to get your copy, please allow me to tell you who I am and how I came across this unique opportunity.
Outperforming 90% of Hedge
Funds... For Two Years Running
I cut my teeth in the world of finance on the floor of the CBOE, learning from the pros and devising new and explosive ways to make money.
In the 15 years since, I've generated over $2.5 million in gains (and there's no telling how much money those listening to me made).
In fact, my streak of success has led to multiple appearances at conferences around the country, including the Money Show in New Orleans, San Francisco, and Orlando, and in countless radio interviews.
My expertise has also appeared in two bestselling books: Hot Trading Secrets and The Small-Cap Investor.
Not only that, but my income-generating ability also led me to Angel Publishing, where I divulge my closest-held profit secrets through The Wealth Advisory, an income service that's outperformed 90% of hedge funds for two years running.
I tell you this not to toot my own horn but to show you I've paid my dues in developing the kind of income-generating strategies that even some of the world's top analysts aren't privy to.
And I like to think I've fared pretty well.
I know my readers feel pretty good about what I've done for them...
But enough about me... let's get back to Wal-01(k)s and how you can start collecting monthly distributions today.
You'll always get paid no matter what is happening to the economy or the financial markets.
And best of all, these monthly distributions have never gone down in value!
48-year-old Ray Kerr from Arizona got payments of $5,969 a month last year.
Jerry Stevens in Ontario, Canada received a payout of $1,638 just last month.
52-year-old Jeremy Evans in Alberta received distributions of $6,817 per month for the last 12 months.
Today, I'd like to give you a chance to accumulate this income for yourself.

That's why I've prepared a research report explaining the details in full...
But perhaps the best piece of information you'll receive today is that this report is absolutely free of charge.
That said, you might be wondering why I would give this information away for free.

Why This Report is 100% FREE
In my 15 years as an investment specialist, I've discovered one ultimate truth:
Roughly 95% of people who want to retire on time are going about investing the wrong way.
I can tell by what people are buying, when they're buying it, and how they go about "saving their money."
And it's quite disconcerting, to say the least... especially when money can be so easily had.
I mean, think about it... starting today, you could be on your way to earning an extra $20k to $50k over the next 12 months just by opening up a Wal-01(k).
And that's on the lower end of the spectrum, as I've already shown you.
In time, you could be earning upwards of $100k per year just like a bunch of the folks I showed you earlier.
It's astounding how quickly it all adds up once you get into the swing of things.
The bottom line is this: Income generation strategies aren't just for the pros; they're for anyone who knows how to use them.
With a Wal-01(k), you can sit back, profit while others do business, and rake in huge amounts of annual income.
It only takes a short time to get started, and it only requires a baseline amount of around $30.
That figure might change in the near future, but for now, that's the minimum to get in on this opportunity.
So how do you open up a Wal-01(k) plan today?
The only thing I ask is that you agree to a trial run of my income generation service, The Wealth Advisory.
As you might expect, a good portion of the service revolves around the best income generation strategies the market has to offer... and Wal-01(k) plans fit right in with that.
With the secret of Wal-01(k)s, as well as my other income-generating tactics, you'll have the chance to sock away an entire second salary each year.
And I'm not talking about option plays or low-paying bonds here, either...
I'm talking about actual income in your pocket... lump sums of actual cash you can use for whatever you like.
So whether you've already retired, are a few years away, or have decades to invest...
The best way to start generating solid, low-risk income is by taking advantage of Wal-01(k)s today.
Once all is said and done, you could easily earn more in the next couple of years than most people do in an entire decade of investing.
But before you agree to a trial run of The Wealth Advisory, let me ask you this...

The Netflix Profit Loophole
What if you could collect a "royalty" every time Netflix streamed a movie?
Or every time Amazon shipped out a package?
How about every time someone logs into Facebook?
Thanks to an incredible profit loophole I just discovered called "Internet Royalties," you can do just that.
This loophole is so strong that we've been seeing some pretty crazy "royalty" payments...
In May of 2014, Jerry L. Martin received a check for $153,406.
In January, Robert Webb collected $287,751.
And just before that, Thomas Teague pulled in $265,213.
All thanks to "Internet Royalties."
This backdoor way to play vibrant Internet stocks neatly skirts around outrageous share prices like Google, priced at $550.
Instead, with "Internet Royalties," you can get in for just $55...
That small stake gives you exposure to companies like Google at a fraction of the price.
And if you decide to join us today, I will share with you a report detailing all you need to know to start earning "Internet Royalties."
It's called "How to Earn $48k in 'Internet Royalties' EVERY Year."
And just like with Wal-01(k)s, you don't need any special financial expertise or a degree in business.
You simply have to be able to follow a couple guidelines, and you could be on track to making a million bucks the easy way.
I include all the details about this income generation technique in the report I just mentioned, and it's 100% FREE.
So that's two reports I'd like to send to your inbox at no charge in return for your agreeing to take a trial run of The Wealth Advisory.

What You'll Get as a Trial Member
Once you decide to become a trial member of The Wealth Advisory, you'll have the opportunity to pocket lump sums of cash on a continual basis...
And you'll also have full access to all of the following:
Profit Report #1:

"Wal-01(k)s: The Automated Monthly Savings Plan That Crushes 401(k)s, IRAs, and Annuities" — This report will tell you exactly how to open up your own Wal-01(k) savings plan... starting with as little as $30... so you can start collecting monthly distributions for as long as you wish. You don't need to work for Wal-Mart to participate in this plan.

Profit Report #2:

"How to Earn $48k in 'Internet Royalties' EVERY Year" — This is your guide to pocketing the most explosive "Internet Royalties" the market has to offer. Not only will this report show you how to get started, but it also includes information on how you should play this opportunity moving forward.
One Full Year of The Wealth Advisory (12 issues total) — You'll receive a new issue on the third Wednesday of each month by email. In each new issue, I'll share details on opportunities that could pay you the most extra income with the least possible risk.
Confidential Wealth Advisory Alerts — You'll be on this list to receive urgent alerts with full details and instructions on every recommendation I make.
Private Access to The Wealth Advisory Members-Only Website — You'll have password-protected access to all of my special reports, alerts, and my entire portfolio.
Full-Care Customer Service — Our customer service reps are always ready to help you out with any issues that may arise... no matter how simple the question may seem. So feel free to give them a call during our regular business hours of 9:30 a.m. to 4 p.m. (EST), and they'll do their absolute best to make sure you're taken care of.
That's a pretty full slate of benefits... but best of all, you'll have the power to profit consistently.
And that's my main goal: to help you earn a steady stream of income that continues year after year after year.
Of course, I'm sure you're wondering by now how much it costs to become a trial member of The Wealth Advisory.
Well, because this is such a powerful moneymaking resource, I know I could charge upwards of $1,000 (which is what some folks pay for similar information).
But I realize that's outlandish... so I decided on a price that's a mere fraction of that figure.
However, before I get into the price details, I'd like to tell you about one more benefit you'll receive as a member of The Wealth Advisory...

A $99 Gift — Yours FREE!
I'd like to give you one more special report for FREE.
I call it "American Oil & Gas Royalty Checks: How a Hidden Loophole Lets You Bank
Huge Payouts from Little-Known Oil & Gas Companies."
This report alone is valued at $99... and I'd like to send it to you, again, for FREE.
I won't get into all of the details right here, but I can tell you this is an explosive stream of income you don't want to miss out on.
Coupled with the Wal-01(k) plan, it's possible these reports could help you generate more income than any investments you've ever made in your life.
And again, the only thing you have to do to get all three reports (and the slew of benefits I showed you earlier) is agree to take a trial run of The Wealth Advisory.
Once you do that, everything I've detailed already is yours.
So let me get back to the matter of how much The Wealth Advisory costs...
I'm actually a bit embarrassed to tell you. The price is THAT low.
But I don't have a choice, so I'll just come out and say it...
Today, the price is just $49 for a full year's membership.
That's a 50% discount from the regular price, and you still get everything I've mentioned!
I consider that an absolute steal considering you could make that amount back in your first Wal-01(k) distribution alone.
I will say, though, that this is a limited-time offer. There's no telling when I might have to raise the price back to the original amount.
So if you're interested in generating continual monthly income from a Wal-01(k) plan, I suggest you lock in your spot today.
You won't find an opportunity like this very often... and with the amount of information I'm giving you FREE of charge, taking a trial run of The Wealth Advisory is a no-brainer.
And of course, you're 100% covered by my no-risk guarantee.
Become a trial member today, and you're locked in with no risk and no obligation.
Take six months to decide if The Wealth Advisory is right for you. That's half a year.
During that time, you'll have full membership access. You can log into the private member's site, check out all the special reports, and view every update I've posted.
If you find The Wealth Advisory isn't what you thought, just let me know, and I'll refund every penny you spent on the subscription — no questions asked.
Any information, reports, or profits you received courtesy of my service are yours to keep.
But I'm confident it'll never come to that — not once you see how easy it is to open up a Wal-01(k) and start banking monthly payouts... automatically.
I'm a complete believer that a year from now, you'll be looking back on a very different life.
And I say that because I have a great feeling you'll have far more money than you ever dreamed possible.
Remember, it's possible you could collect an extra $34,000 in the next year alone just by opening up a Wal-01(k) plan.
The only thing left to do now is take your trial run of The Wealth Advisory and find out how to get started.
Click here to see how to open up your own Wal-01(k) plan for as little as $30.
Briton Ryle
Investment Director,
The Wealth Advisory
Exposed:
Warren Buffett's Secret Marijuana Stash
Why is the "world's greatest investor" stockpiling barrels of weed?
And could this daring move result in an explosive wave of $200 billion in marijuana profits for savvy investors?
Dear Reader,
In the heart of Denver's "marijuana zone" sits a string of secret warehouses...
Together, they supply 120 metric tons of premium-grade marijuana — an estimated $700 million value.
Not much is known about what goes on here. They don't advertise their names or locations. As
Bloomberg
reports,
"the operations are still somewhat secretive."
But it's not because they're growing weed... now legal in Colorado.
Instead, my research shows it's due to an
incontrovertible link
between these grow operations and "the world's greatest investor."
The details of which could change everything you think you know about the explosive marijuana market.
All while minting you a fortune, as $200 billion in untapped wealth is unleashed onto the markets.
I even caught an image of this secret grow operation...
Now, before I go forward, let me make one thing clear:
The details of this story are highly sensitive.
I doubt one in 1,000 Americans are privy to Buffett's marijuana holdings.
And when
Bloomberg
reporters attempted to contact the normally chatty billionaire about it, he refused to comment.
But after I caught wind of this controversial story, I led a team to conduct a full-scale investigation...
And thanks to my extensive contacts inside the legal cannabis industry, I've gotten to the bottom of Buffett's weed stash...
Why the "world's greatest investor" has ties to warehouses stockpiling metric tons of marijuana...
And why this could hand life-altering profits to investors who are privy to the details.
Using history as a guide, we could see nothing less than short-term gains of 2,850%.
Which is why Buffett is far from alone.
As it turns out, the "smart money" is buying marijuana by the forklift.
Earlier this year, billionaire PayPal founder Peter Thiel staked over $75 million on marijuana holdings.
The
LA Times
reports Thiel is positioning himself for the inevitable end of prohibition.
And now dozens of big-name investors are following closely behind.
Like George Soros, who recently staked a fortune on the ground floor.
MarketWatch
reports the billionaire is working with Big Food conglomerates to develop mass-scale growing operations...
And then there's Tesla's Elon Musk.
All told, Musk pocketed $133 million from this industry
before it even launched
.
In fact, this ground-floor opportunity is so lucrative that former Microsoft executive Jamen Shively — who worked directly with Bill Gates — left the software giant to begin a marijuana start-up.
According to Shively (a.k.a. the "Bill Gates of Cannabis"), the industry is on track
"to create more millionaires than Microsoft."
"This Will Create More Millionaires Than Microsoft"
— Former Microsoft Exec Jamen Shively
Troy Dayton, CEO of the hedge fund ArcView Group, agrees, saying,
"These are exciting times, new millionaires and potential billionaires are about to be made."
And it's already happening...
Consider Colorado.
Since legalizing pot three years ago, the state has produced 4,873 new millionaires.
That's a rate of almost five new millionaires a day!
CNN calls them
"the New Marijuana Millionaires."
People who are waking up overnight to find they are sitting on a mountain of riches.
Take Jeffery Moss, a 40-year-old Northern Washington farmer. Last year, he couldn't afford a car and had to rely on his parents for money and his friends for meals. Now, legalization has made him a millionaire on his marijuana holdings... virtually overnight. In fact, since the state law passed last year, he's grossed $5 million.
Then there's Carry Vincetti, 33, who left her job as a paralegal to join the "Green Rush" — not to sell marijuana, but as a consultant to start-up cannabis entrepreneurs. With so many people looking to make a killing on the Green Rush, her own business is booming. So far, she's raked in a $2 million fortune.
And there's Allen Gustov, who lost all of his savings investing in a music venture. He and wife were sleeping on cardboard furniture and had a baby on the way when they moved out to Anaheim, California and opened a marijuana business. They went from being almost homeless to raking in over $1 million last year.
The examples go on and on.
Now you can join these brand-new millionaires — without starting a business... owning a farm... or ever touching an ounce of marijuana.
In fact, in order to make a fortune from the cannabis boom...
You

don't

have to live in a state where marijuana is legal.
You

don't

have to sign any petitions or do any political advocacy.
And you

don't

have to have anything more than $25 to invest.
You just need to buy in now before the end of marijuana prohibition. And not in some shady penny stocks. Instead, I've identified three super-safe companies that are banking on the "Green Rush."
They don't all grow or own weed, but they provide services that benefit those who do.
These are ancillary companies raking in the lion's share of marijuana profits by providing software, real estate, and technology to growers.
Just like people who struck it rich in the Gold Rush by selling picks and shovels... not mining... these companies will spin off a new wave of millionaire investors.
To be sure, I've been to their operations and seen their sites. I've met their managers and workers.
I've pulled up the curtain on the quarterly earnings report and seen their real profit potential.
In short, I've gotten the inside scoop that you won't hear from analysts sitting behind a desk.
Using history as a guide, they could deliver nothing less than 2,850% profits moving forward.
And that's just over the next 12 months.
It's happened before — when the government ended Prohibition...
When Atlantic City legalized gambling in the 1970s...
And other similar historic moments — what I call "crossover events."
This is when formerly illegal industries become legal... and already established companies with loyal customers generate fortunes — as do their investors.
Now, the exact same circumstances are setting us up for astronomic gains once again.
I'll show you why these profits are inevitable... when to expect them... and what to buy.
But before I do, allow me to introduce myself...
I've Been on the Front Lines of the Billion-Dollar "Green Rush" For a Decade Now
Hi, my name is Jimmy Mengel.
I've been on the front lines of America's billion-dollar "Green Rush" for the better part of a decade.
And even though the market is still only legal in some places...
I've shown my readers big gains on some of the hottest emerging marijuana plays.
Like a biotech developing marijuana treatments that we bought and sold for 93% gains in seven months.
Or a Canadian marijuana delivery company that handed us 73% gains in seven months.
Another company I recommended four months ago has
doubled since then.
And I've given six-figure presentations in front of Silicon Valley bigwigs seeking my outlook on this explosive market.
I've even hobnobbed with the likes of famous TV host Montel Williams, who benefited from medical marijuana to treat his multiple sclerosis... and is now benefiting financially from his medical marijuana dispensary, too.
Recently I toured the facilities of Canada's dominant medical marijuana firm... now poised to make a small fortune for investors.
All because I'm confident of one simple thing...
Legal marijuana is the kind of once-in-a-lifetime mega-trend that delivers "big wins"...
The kind you can retire early on, with more money than you know what to do with.
You see, we hardly ever see the birth of a new billion-dollar industry or the opportunity to get in before these profits are unlocked...
Much less one where money
is already there
under the surface.
That's what makes the emergence of America's newest and most lucrative industry — legal marijuana — the most extraordinary profit opportunity I've ever seen...
And because marijuana legalization is unfolding state by state, we have the rare opportunity to buy in before prohibition completely ends.
If you know the stories of alcohol millionaires like Joe Kennedy, then you know just how lucrative this can be...
And why Silicon Valley is now scrambling to join the "Green Rush."
In fact, at my recent Money Show presentation, I spoke to early VC investors in companies like Uber, Reddit, and Tesla Motors.
All are pouring capital into emerging marijuana start-ups... and see even bigger opportunity than anything Silicon Valley has delivered since the iPhone.
The Financial Times
now calls marijuana
"Silicon Valley's hot new sector."
And as the
LA Times
puts it,
"They're leveraging the legalization of marijuana into a windfall."
So are Fortune 500 corporations.
This includes companies previously opposed to marijuana legalization, like...
Big Tobacco
Big Ag
Big Pharma
All are now getting a piece of the action.
All are putting down billions outside the purview of the government or the media.
Cannabis is even moving to Wall Street, where it could soon be traded just like any commodity.
The CEO of VC firm Privateer Holdings predicts,
"Six to 12 months from now there will be investment banks who will have analysts following cannabis like they follow healthcare or agricultural commodities."
These "smart money" moves all point to one unavoidable conclusion...
The time to (legally) pocket massive profits from marijuana is now.
And for good reason...
Over the last 24 months, the legal market has surged from zero to a $2.7 billion industry.
A newly released market report even called legal marijuana:
"America's Fastest-Growing Industry"
— Troy Dayton, CEO of the ArcView Group
Smartphones came in a distant second.
Last year, sales skyrocketed 74%.
The year before, 64%.
No market has taken off at this rate since the tech boom began in the early '90s.
But moving forward, this will look like a drop in the bucket.
Think about it...
Medical marijuana is legal in 23 states...
Recreational use in a mere four states.
Four others have decriminalized it.
And these are just the first dominos to fall.
New laws are rapidly advancing in half of all 50 states, red and blue alike.
The customers already exist. The market is already there. The profits are just now being tapped.
Which is why this millionaire growth story is only just beginning.
And why the 2016 elections will unlock the marijuana industry's untapped profit potential...
I'm talking about the imminent end of marijuana prohibition, thanks to a series of little-known bills on the state and federal levels.
Now, that may sound like a bold prediction, but the writing is on the wall. Anyone who's paying attention can see it.
Explosive Profit Catalyst:
The Imminent End of Prohibition in 2016
Presidential candidates are behind legalization on both sides of the aisle.
At least 17 states are lined up to fully legalize marijuana.
And more are joining the wave, no matter who wins the White House.
The political consensus is growing.
Pew Research polls show 53% of the American public supports legalization.
63% of Republicans under 30 support legal marijuana.
And Republican support for legalization has more than doubled in the last five years.
That's why Republican presidential candidates are now jumping on board, including Trump, Bush, Cruz, and Walker...
In fact,
Newsweek
recently called 2016
"The Marijuana Election."
Like it or not, we could see "green states" from sea to shining sea by early November.
And as
Forbes
predicts,
"[This move] will make investors extremely wealthy."
I agree.
But what's the REAL upside potential?
Now, while legal sales of marijuana have climbed to $2.7 billion...
We're just seeing the results of
four
states legalizing recreational use.
So as it spreads across the Union, it's not hard to imagine this story will look a whole lot different.
After all, we're looking at tens of millions of new and
already existing
customers.
This is a giant "mountain of money" waiting to be unlocked.
When all is said and done, estimates put the legal market at an astronomic $200 billion.
That's an incredible sales surge of 7,300%...
The kind of astronomic growth that turns everyday folks into millionaires.
And I'm not talking about 10, five, or even three years from now... but over the next 24 months.
Phenomenal 7,300% Sales Surge...
in 24 Months
That's why financial journalist Todd Harrison calls marijuana
"the best investment idea of the next decade."
The Daily Bell
takes it a bit further, calling it the
"profit opportunity of the 21st century."
And one hedge fund owner told Wall Street investors,
"There is a massive potential. It is untapped. It is just sitting there below the surface and it is ready to come above ground."
Now, some may still be opposed to legalizing marijuana. They may think it's unethical or immoral.
And I respect anyone's views.
But when you consider the tide of public opinion...
The growing number of states lining up for legalization...
And the massive profits about to be unleashed as a result...
I think you can agree legal marijuana is inevitable, as are the profits at stake.
So the way I see it, you have two choices...
You can sit on the sidelines and miss out on the profit opportunity of the 21
st
century...
Or you can ride the tidal wave of inevitable profits for retirement wealth, however you feel about marijuana.
In a moment, I'll share with you the three best ways to cash in on this $200 billion wealth trend.
The future Anheuser-Busches, Bacardis, and Miller-Coors of marijuana.
But first, let me show you just how much money is up for grabs...
When can you expect to see it...
And why I'm so confident these profits are inevitable.
To give you an idea: First, we'll have to go back to the end of Prohibition in the 1930s...
When alcohol stocks skyrocketed for unbelievable 10-fold gains in under a year...
Even as the rest of the stock market tanked!
This is what I consider a "crossover event" — illegal markets becoming legal.
Time and time again, these market anomalies have handed investors a fortune.
Let me explain...
The Biggest Profit Opportunity in 83 Years
It's November 1932.
The writing is on the wall.
FDR wins the election by a landslide.
One of his central promises?
The repeal of Prohibition.
FDR's victory was easy to anticipate at least months before.
So were the legalization bills that passed in several states.
And much like the situation we're seeing now, alcohol's legalization was all but inevitable.
That's why, even though it would be another year before Prohibition was actually repealed...
It didn't matter.
Alcohol stocks — known as "repeal stocks" — soared to the heavens.
But since selling liquor was still illegal, only three kinds of American companies were available:
Ancillary purposes... like antifreeze
Take the major bottle manufacturer Crown Cork & Seal.
Today a blue-chip giant, this company was relatively new at the time.
In June 1932, it traded for just $5.
But then it soared to $10... $30... and $50.
By July 1933, five months before Prohibition was even repealed, it soared to $64...
A massive gain of 1,180% in just 12 months.
Then there's American Commercial Alcohol, a leading producer of alcohol for cars.
It soared from $8 in 1932 to $20... and then to $50.
By July, it had reached $90.
That's a 1,025% gain in just 15 months.
And there's National Distillers, the largest provider of medicinal alcohol, which surged from $12 to $125.
Let's not forget Canada, where alcohol was still legal...
And where major suppliers surged as the American market opened up once again.
Take Hiram-Walker, the maker of Canadian Club, which soared from $2 in 1932 to $59 just 12 months later.
A gain of 2,850%.
But the biggest "repeal stock" home run was the bottle manufacturer Libbey Owens-Ford...
In fact, the Chicago Institute of Securities would list it as one of the top stocks of the next two decades...
All told, the stock surged for incredible 11,326% gains.
Enough to turn just $10,000 into over a million-dollar nest egg.
Now, these gains are great and all...
But how did investors really do?
How Joe Kennedy REALLY Got Rich
(HINT: Not Bootlegging)
Consider the famous example of Joe Kennedy.
Now, you might have heard the legendary story of how the Kennedy patriarch accumulated his riches...
Laying the foundations of the famous family fortune.
To this day, many claim Kennedy built his empire by illegally bootlegging alcohol.
But in reality, that was only a small part of it.
Instead, Kennedy made his REAL fortune in just three simple steps...
He anticipated Prohibition's end early
He bought shares of bottle manufacturers and other ancillary companies
And then rode the tidal wave of life-changing profits as alcohol shares surged in 1933
In 1933 alone, he took home $4.27 million in inflation-adjusted profits...
All by investing in alcohol-related stocks like National Distillers and Libbey-Owens Ford.
Now you can do the same.
And while you might not make millions like Kennedy...
If you know the companies to buy and take action early, just like Kennedy did...
THIS could be the biggest profit windfall of your life — hands down.
And this is just one past example.
Whenever an industry becomes legal, investors get rich.
History has proven this time and time again.
Consider the next big "crossover event" — the (partial) legalization of gambling in the 1970s...
Guess What Happened When Gambling Became (Somewhat) Legal...
It's the mid-1970s.
Atlantic City passes a historic bill legalizing gambling.
The law leads to Native Americans winning a series of historic court battles...
Paving the way for legalized gambling in Indian reservations everywhere.
The result?
Gaming stocks take off... even as the market is tanking.
Take Bally Manufacturing, the country's largest casino slot-maker.
It trades at $5.
But then it shoots up to $10... $30... as high as $68 by September.
A gain of 1,260% in just nine months.
Then there's the Las Vegas casino operator Golden Nugget.
It surges from $5 at the beginning of the year to $45 by August...
A gain of 800% in eight months.
And these are just a handful of examples. Dozens of hotel, airline, and real estate stocks soared for 1,000% gains or more in just months. Many were ancillary companies poised to profit from the legalization of gambling in Atlantic City.
But the biggest home run by far was Resorts International — the lead casino for Atlantic City.
That's a whopping 31,432% gain... in just two short years.
Good enough to turn every...
In a matter of 24 months!
This is simply the biggest, quickest gain I've EVER seen in the markets. Nothing else compares... not by a long shot.
If you had seen the writing on the wall when Atlantic City first proposed legal casinos...
If you knew THIS company's potential to hand investors earth-shattering gains...
And if you had taken quick and decisive action...
It's no exaggeration to say you could have retired on this single play... with just a very tiny stake.
This is the historic wealth-building power of "crossover" events — when formerly banned industries become legal.
History's NEXT "Repeal Stocks" Boom
Just like the end of Prohibition and the partial legalization of gambling...
The end of marijuana prohibition will make investors very rich, very quickly.
And if you know where to look and take action while it's early...
You could see the biggest profit windfall of your life, no matter how much you invest.
After all, the big winners won't be the growers...
Or anyone who even touches the marijuana itself.
The winners will be the ancillary companies essential to production.
I'm talking about real estate, grow equipment, and security systems (just to name a few).
These are companies with the potential to deliver nothing less than 10-fold returns in under a year.
Once again, investors will see the writing on the wall.
They'll see a major election in 2016 that guarantees a shift in policy...
They'll see dozens of states pass legalization bills...
And they'll snap up shares of marijuana companies in a frenzy... driving share prices through the roof.
But you'll need to move right now, because these stocks will start surging long before prohibition is officially over.
Can you guess the effect of the end of Prohibition on alcohol stocks?
Nothing. Not even a tiny bump.
That's because investors had already bought up company shares in anticipation of what they knew was inevitable.
That's why the "smart money" is moving into this sector now.
Billionaires like Thiel, Buffett, Soros, and Musk.
And if you know where to look — and move quickly — you can get their same first-mover advantage.
And this is key...
In fact, getting in early enough could mean the difference between a few nice percentage points on your portfolio...
And a massive retirement windfall.
It's your choice.
But if you want the second option, you'll want to act right now.
And you'll want to act on the three specific plays I'm sharing with you today...
The future Anheuser-Busches, Bacardis, and Miller-Coors of marijuana.
That's why I've laid the groundwork for you so you can get started immediately.
You'll get all the details on how to profit from America's fastest-growing industry — including three red-hot plays — in my brand-new dossier,
"Green Rush Profits: 3 Ways to Play the End of Marijuana Prohibition in 2016."
Inside you'll get...
Their names, ticker symbols, company profiles, and full analysis — everything you need to make this emerging opportunity the most lucrative of your life starting today.
Everything I recently shared with an overcrowded room of hungry VC investors at The Money Show in San Francisco.
All of my boots-on-the-ground analysis, including hobnobbing with elite marijuana entrepreneurs like TV show host Montel Williams.
Let me tell you a little about each of these companies right now...

Green Rush Play #1:
"Canada's $1.3 Billion Marijuana Monopoly"
Gains Potential: 2,900%
My first pick is a Vancouver-based company I call the "New King of Pot Stocks" because it's positioned as the future monopoly of Canada's marijuana industry.
The Canadian market for medical marijuana is growing fast.
Industry experts project the market will grow from 40,000 individuals to 1 million in just a few years.
And this firm is THE number one way to cash in on Canada's explosive market — hands down.
First off, the company is Canada's first licensed marijuana distributer and manufacturer, so it has considerable first-mover advantage.
That alone should grab our attention.
But when you add a recent acquisition of its biggest competitor...
A combination that analysts hail as "a cannabis superpower"...
We can now indisputably say it's the dominant player of the country's market — one that will lead this industry from infancy to maturity...
And deliver investors the biggest returns.
But it has just started growing its market share, and here's why...
The company doubled its revenue each month in 2014.
In 2015, its revenues have grown six-fold.
In just two short years, its revenues are projected to explode 2,900%... even as expenses decline!
No surprise, then, that it recently booked positive profits... AND free cash flow.
I'm telling you... in an infant industry like this, where many of the companies are emerging players, it's incredibly rare to find a company sitting on extra cash.
In fact, right now it's the ONLY player in the Canadian market to generate free cash flow.
This all means one thing: It can snap up its much weaker competitors... expanding market share.
In other words, we're early on the cusp of an explosive profit growth story.
Just to give you an idea of its potential, this stock has more than doubled investors' money in just ONE month. Take a look...
That's enough to turn a small investment of $10,000 into $25,000... in only 30 days.
And a coming catalyst could send it a whole lot higher.
Recently, the Canadian government legalized cannabis oil and edibles — a law that takes effect near the end of the year... opening up a whole new billion-dollar space for this marijuana giant.
To be sure, it has dozens of products in the pipeline that should hit the market before 2015 is over...
Not to mention it's quickly expanding into the North American market.
And as the ONLY profitable Canadian marijuana firm — one generating free cash flow — it has the treasure chest to do so... without adding any debt.
Right now, its shares trade around $3...
But considering we're looking at the dominant leader of a projected $1.3 billion market...
It's unbelievable how the markets are undervaluing it.
Moving forward, 2,900% gains are not out of the question.
That brings me to my next recommendation.
It's a Denver-based social media platform that some now dub...

Green Rush Play #2:
"The Facebook of Marijuana"
Gains Potential: 1,500 percent
It's connecting thousands of legal weed users around America.
The company's subscriber base has soared from 25,000 last year to 500,000 now.
That's an astronomic surge of 2,000%...
And as marijuana prohibition ends, this number will only grow.
So will the number of companies paying for advertising.
Right now, 1,000 marijuana companies are hosted on the social platform.
Locked out by Google, Facebook, and Twitter, these business owners are just happy to have a space for Internet marketing.
And with competition heating up in the market, they'll pay whatever it takes to reach customers.
Let me be clear: Online marketing for cannabis is a HUGE untapped space. And when prohibition ends, this company is lined up to be the leader — not other social media firms that snubbed the industry.
The astronomical growth in subscribers has hedge funds taking notice.
So far, it's attracted $25 million in venture capital this year.
The markets are starting to see its potential, too...
Between August and September, the stock surged 129%.
Not bad for one month.
But wait until you hear what's coming next...
If everything goes right (and there's no reason it shouldn't), this will be the first cannabis tech company to be listed on a major exchange...
A significant milestone event that could attract dozens of big-name institutions and send investors piling into the stock.
This is just weeks away, so I urge you to move quickly.
While it only trades at $2...
It has all the potential of Facebook or Twitter, if you had invested pre-IPO.
Now, here are the details of my last play...

Green Rush Play #3:
The Company Banking on Marijuana's $3.6 Billion Energy Shift
Gains Potential: 1,000%
It's a Swedish-based LED light technology firm.
The energy costs for marijuana growers are astronomical, to say the least.
One study estimates that weed growers consume 1% of total U.S. energy output.
That's the equivalent of 2 million American homes...
The entire country of Israel...
And as many as 150 countries!
The total tab has been estimated at $5 billion a year.
Industrial growers, like Denver-based Medicine Men, pay as much as $40,000 per month for electricity.
So LED lights are a no-brainer.
They can cut energy costs by as much as 66% in some cases.
They're also eco-friendly and produce more diverse, potent, and higher yields of cannabis.
And this Swedish firm is on the cutting edge of new LED technology customized for the marijuana industry.
Over the last year, in fact, sales of its patented LED technology have doubled.
And that's just for starters...
The overall LED grow-light module market is expected to move from $395 million in 2013 to $3.6 billion by 2020, according to Wintergreen Research.
These estimates will certainly move higher after the 2016 election, when dozens of new states pass bills of their own.
And considering its disruptive technology... growing client base... and surging sales growth...
This company is shaping up to be a major player in this emerging billion-dollar space.
Right now it trades around $1.30, but $10 is not out of the question moving forward.
So you've seen all the profits up for grabs...
The upcoming catalysts that can put this money in your pocket soon...
And similar circumstances where investors got rich.
So that you, too, can turn this into the profit opportunity of a lifetime, I've assembled the full details on this pick — and the two other red-hot plays — in my brand-new dossier:
"Green Rush Profits: 3 Ways to Play the End of Marijuana Prohibition in 2016."
Inside, you'll find a profile on each of these companies and their ticker symbols.
That way, you can buy into them right now, before they start returning HUGE gains.
With your permission, I'd like to send you my research on this new breakthrough absolutely FREE.
All I ask is that you take a quick test-drive of my research advisory service, The Crow's Nest.

Welcome to the The Crow's Nest
As I mentioned before, my name is Jimmy Mengel.
You may have seen me hobnobbing with the financial elite on CNBC's Closing Bell...
Or you may have heard of me as the architect behind the wildly popular finance and investing website Wealth Wire, where I brought readers the story behind the mainstream financial news every single day.
I've spent my entire professional career researching and writing about little-known opportunities in the financial arena.
I head the Outsider Club and our financial planning advisory, The Crow's Nest.
As a trained journalist, I've gained a reputation among my peers for digging like a sleuth to uncover under-the-radar moneymaking loopholes in financial back doors that most people never hear of...
In other words, I don't follow the crowd. The real money is always in the investments you've never heard of. That's how the rich play the game.
Whether it's the $200 billion untapped potential of the marijuana market...
The emergence of cutting-edge medical developments that could change our lives and mint new fortunes...
Or retirement loopholes that can turn these profit windfalls into substantial "work-free" salaries...
I take pride in not just spotting life-changing trends long before the media catches wind...
But also helping everyday investors maximize their profits from these explosive opportunities.
That's what The Crow's Nest is all about.
All the research, the meetings with executives, the boots-on-the-ground investigation...
Touring the shops... factories... and fields...
It's all a lot of work that keeps me going nonstop.
But it's all worth it, knowing that you — the everyday investor — can see the money you need to fund your retirement.
And nothing — I repeat, NOTHING — compares to the once-in-lifetime opportunity the marijuana market now presents us.
All-new millionaires are being minted every day... with many more to come.
Not just entrepreneurs, either...
But everyday Americans who buy the right companies at the right time.
Whether it's the end of Prohibition or legalized gambling...
Again and again, major legal changes like this drive stocks up for 10-, 20-, and 100-fold gains... in a matter of months.
And investors get rich.
As soon as you start your FREE trial subscription to The Crow's Nest, you'll get access to my new dossier...
"Green Rush Profits: 3 Ways to Play the End of Marijuana Prohibition in 2016."
So you'll get a shot to join them as history repeats itself.
To sweeten the deal, I'll also send you a brand-new research report on a very unique company I call the "Gold Barons."
Even as gold has plummeted in recent years...
And even as some miners have plunged by 80%, slaughtering investors...
This gold company has not batted an eye. In fact, it could have doubled your money during the same time.
Bonus Report #1:
"The Gold Barons: Make Money in ANY Gold Market"
Here's the kicker...
Whenever gold soars, sending miner shares through the roof...
This company has historically surged three times higher!
That's incredible.
It has all the upside of gold, with none of the downside. And it continues doubling investors' money no matter what happens to the price of gold.
It's the perfect company to own whether you'll bullish or bearish on gold.
You'll get the name, ticker symbol, and company profile — all the details on what makes this company so different and why it could double your money moving forward, no matter what the gold market is doing...
All inside my dossier:
"The Gold Barons: Make Money In ANY Gold Market."
Like I said, I will send you all of this research free of charge when you start a subscription to The Crow's Nest, which is delivered to your email inbox every month.
I realize you might have subscribed to a financial or investment newsletter before, but I guarantee you've never read anything like The Crow's Nest.
Introducing you to the best investment ideas in the stock market is just a small part of what I do.
In my years running Wealth Wire, I've seen it all... and now I've boiled all of that knowledge down to an easy-to-follow program that will help you secure your finances, grow what you have, and allow you to retire comfortably instead of working until you drop — even if you've never bought a stock in your life.
The Crow's Nest will teach you how to completely take control of your finances — from buying stocks and plotting your retirement to taking advantage of tax breaks and simply plugging the money leaks that threaten to sink your savings.
Here are a few things you will discover when you read The Crow's Nest:
How you can save up to $277,969 by avoiding certain kinds of investments.
How to open a savings account that actually beats inflation.
A secret that will help you save hundreds of dollars on car insurance.
A sneaky fee that could be draining thousands of dollars out of your retirement account.
Why your credit card could be costing you hundreds of dollars, even if you don't use it.
The best way to protect your portfolio during volatile times... and much more
So how much does The Crow's Nest cost, and how can you get started?
Well, before I tell you how to start a subscription, there's something else I want you to know.
There's another research report I want to make sure you have in your hands immediately.
Bonus Report #2:
"The Forbidden Secret To Retire a Millionaire"
Did you know there's a secret retirement account that lets you pocket, on average, an extra 4% gain every single year?
I know an extra 4% gain may not sound like much... but all these gains add up to a fortune over time. Take a look at this chart:
It shows the growth of $1,000 invested in both the S&P 500 index and this secret retirement account going all the way back to 1929.
While a $1,000 investment would have turned into $80,760 with the S&P 500 index, the same $1,000 investment would have turned into $2,297,085 with this retirement plan.
That's more than 28 times higher.
This account had an average annual return of 9.8%, while the S&P 500 had an average annual return of 5.4%... a difference of 4.4% every single year...
All thanks to what I call
$50 Retirement Plans.
This is a very unique way to retire rich... a rarely advertised investment opportunity so good that it puts 401(k)s and IRAs to shame.
Most people don't know this retirement program exists.
But a few regular folks, like Bernard Schlossman, a 73-year-old retiree from Northridge, have already started to take advantage of this secret. As he says, this is something "you cannot not do."
That's because this little-known program can mean a lifetime of safe, effortless wealth generation for ordinary Americans... beginning with as little as a few hundred dollars.
And this is the perfect program for investors who are looking for income because it allows you to collect five to 10 TIMES bigger dividends than holding a stock the normal way...
With this kind of income, you could amass an unbelievable stake in just years starting with very little money.
I'm sure by now you're asking yourself, "If this secret plan is so good, then how come I haven't heard about it before?"
The short answer is that the government has placed restrictions on advertising this program to the general public.
When this plan was created, it completely bypassed traditional brokers and money managers. So Wall Street lobbied Congress to forbid it from ever being advertised to the public...
As
The Wall Street Journal
wrote:
"It's the best-kept secret on Wall Street. Securities and Exchange Commission rules won't let them say much about this fabulous way of saving and building wealth..."
Or as
MarketWatch
put it:
"Brokers and fund managers can't sock you with big fees and commissions if you [use this program]. So they won't tell you the 'best-kept secret' and they've made sure Congress and the SEC keep it a secret too."
Do you see now why few people know this program even exists?
The good news is that today, many online brokers will gladly help you get started. Your current broker may even offer this program, even though he probably doesn't advertise it.
You just have to know what to say.
I've created a special report to tell you everything you need to know about this rarely advertised retirement program. In the report, I'll show you how to get started... why this plan is so much better than regular retirement plans... how much you can collect... and three companies that are perfect for setting up $50 Retirement Plans.
As soon as you become a subscriber of
The Crow's Nest
, you will get access to this report that shows you exactly how this secret plan works. You can get started with it in a matter of minutes.
A subscription to my letter, by the way, costs $99 a year.
Remember, elite investors charge their clients thousands of dollars for their advice. With
The Crow's Nest
, you will get access to their best picks
without
having to pay the hefty fees they charge.
That's why many folks believe
The Crow's Nest
offers the best deal you're ever likely to come across for this kind of research.
But here's the thing...
You can actually get started with a full-year subscription today for much less than our normal rate. Today, you can receive a full year of
The Crow's Nest
, plus everything else I mentioned here, for only $69.
Why so cheap?
Well, I know that most of my readers, like me, are extremely skeptical. Lots of people can make big promises and talk a good game, but in my experience, very few can actually deliver on what they promise.
And I know that if you're like me, I need to
earn
your trust and your business. That's why I want to make it as easy, cheap, and hassle-free as possible for you to try my work today.
That's why, instead of paying our regular rate of $99 per year, today you can pay just $69. That's $0.19 a day to receive EVERYTHING I mentioned here.
This includes:
12 Issues of The Crow's Nest: Delivered every month, each research letter I send you will be packed with the best elite investor ideas I uncover. I'll also show you how to boost your income, incredible ways to dramatically cut your cost of living, the safest way to grow your retirement account, and much more.

Special Report

: "Green Rush Profits: 3 Ways To Play the End of Marijuana Prohibition in 2016"

Bonus Report #1

: "The Gold Barons: Make Money In ANY Gold Market"

Bonus Report #2

: "The Forbidden Secret To Retire a Millionaire"
Oh, and one more thing...
When you try my research, I'm not asking you to commit to anything whatsoever.
All I expect when you sign up is that you'll give my work a try. Here's the deal I'd like to propose: Sign up today to start receiving my research, and
take the next 90 days to make up your mind.
If for any reason my work does not seem right for you, simply let me know within the next 90 days, and I'll make sure you get a FULL REFUND for your entire $69 payment.
No restocking fee. Nothing to send back. Even if you cancel your subscription and receive a full refund, I'd like you to keep all the research you've received, my compliments.
Remember, even if you've subscribed to a financial letter before, I guarantee you've never seen anything like The Crow's Nest.
I will introduce you to the best investment ideas from the most powerful investors on Wall Street and help you achieve financial freedom by taking complete control of your finances.
If this sounds like a fair deal to you, simply click on the "Subscribe Now" button below, which will take you to a secure order form, where you can review everything you'll receive before placing your order.
I look forward to hearing from you.
Sincerely,
Jimmy Mengel
Investment Director,
The Crow's Nest


Exposed:
Warren Buffett's Secret
Marijuana Stash
Why is the "world's greatest investor" stockpiling barrels of weed?
And could this daring move result in an explosive wave of $200 billion
in marijuana profits for savvy investors?